You may know Turkey or even plan to visit for its diverse culture, history, and architecture. But in between the cozy beaches, magnificent structures, ancient ruins, and stunning architecture, you don't want to miss the country's foods and cuisine.
Turkey has an impressive culinary mosaic with countless influences from all corners of its Ottoman and Byzantine history. Thus, it ranks somewhere at the top of the world's cuisine, next to French, Italian, and Chinese delicacies.
Regional Influences
Turkey loves its food and as you explore the different regions of the country, you'll notice the changing landscape of breakfast, lunch, and dinner tables. The cuisines available in an area are influenced by the history and culture of the local people. They are also shaped by the foods common to that particular region.
For instance, the Aegean, Marmara, and Mediterranean cuisines are rich in fish and seafood due to the adjacent seas. The Black Sea region also uses a lot of fish for the same reason, but Slavic and Balkan culinary cultures influence their meals. As such, the food typically includes corn and corn flour dishes.
On the other hand, the southeast is famous for its kebabs and desserts like kunefe, baklava, and kadayif. The presence of abundant livestock in the Anatolian region facilitates this meat-rich diet.
Istanbul is the most interesting of all. It's a thriving metropolis and thus, draws people from all over the country. These migrants bring with them different cultures that have turned the city into the cultural heart of Turkey. Here, you'll find delicious Turkish delicacies from every region of the country.
The Aegean region produces a lot of olives, which is reflected in its delicious olive oil vegetable dishes. Pastries are most common in Thrace, while Central Anatolia has specialties like manti and gozleme.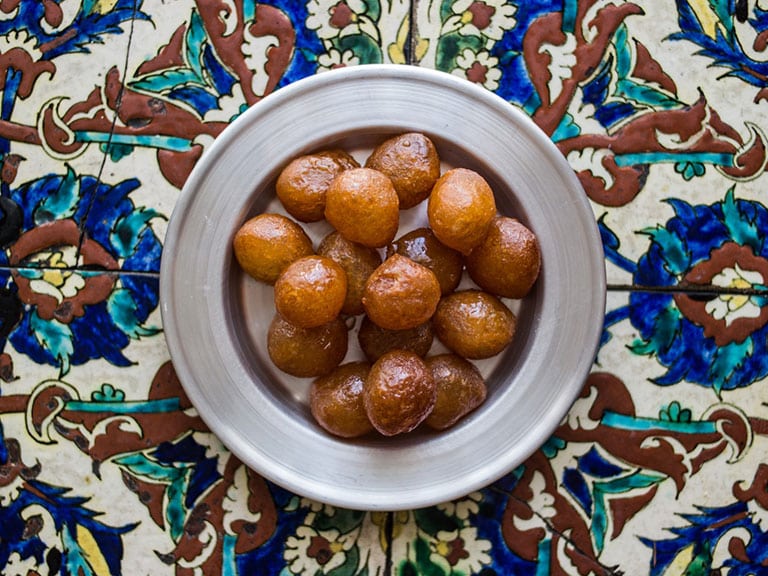 General Cuisine Culture
Food in Turkey is embedded deep in the fabric of society. Almost everyone is passionate about food, from the five-year-old waiting for mom's supper to the theatrical roadside seller trying to sell their street food snacks. Thus, mealtime in Turkey is a social occasion relished by everyone involved.
In the Ottoman era, families had two meals a day. The first was pretty similar to brunch, taken between morning and noon, while the second meal was eaten between the late afternoon and evening. This meal was more like a feast, consisting of several meat dishes served with vegetables. There were also several legume accompaniments.
Today, most families take three meals a day; breakfast, lunch, and dinner. The breakfasts are delicious but quick and basic during the weekdays. On weekends, however, breakfast is an occasion for the whole family to come together and enjoy many different foods. As a result, weekend breakfasts generally last longer than weekday ones.
Lunches are heavier than breakfasts but less elaborate than dinners. Finally, there is "yatsilik." This unofficial meal is taken around 10 pm and consists of nuts like almonds, roasted pumpkin seeds, walnuts, hazelnuts, roasted chickpeas, and pistachios. There are also fresh and dried fruits, including figs, dried plums, and dried figs. These are served with black Turkish tea.
The key ingredients of Turkish meals are meat, vegetables, and legumes. The meals are generally soupy, and thus, bread forms a key part of everyday meals. The country's bread consumption is so over-the-top that the average Turk consumes their body weight significantly in bread annually.
A Day's Worth of Meals
Here's a closer look at the three meals the average Turkish family takes in a day.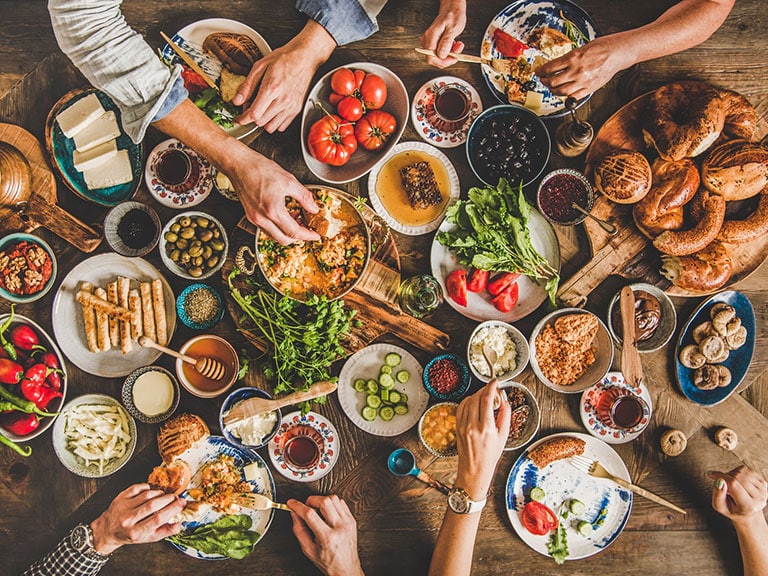 1. Breakfast
In Turkey, weekday breakfasts are different from weekend ones. Weekday breakfast is a light meal, just filling enough to give you all the energy needed to get through the day. The key ingredients include tea- the country's favorite beverage- bread and cheese. There may also be a few accompaniments, but nothing too sumptuous. It's pretty diverse with some vegetarian/vegan options, but it pales compared to traditional Turkish breakfasts, which are now done on the weekend.
Weekend breakfasts are large and plentiful. They're usually so large that you can take a whole culinary tour in one sitting if you're new here. A typical traditional breakfast contains several small dishes accompanied by olives, tomatoes, cheese, jams and spread, butter, and, of course, loaves of fresh bread and an abundance of Turkish black tea.
As a result, Traditional Turkish breakfasts are very delicious, healthy, and rich in nutrients. The vegetables and potatoes present an excellent breakfast option for those who prefer a vegan/vegetarian diet. They are usually fried using olive oil, sunflower oil, or hazelnut oil. This makes a Turkish breakfast one of the most delicious and nutritious vegan options available.
Eggs are also a staple in Turkish breakfasts. They may be served fried, boiled, or combined with tomatoes and peppers to make menemen.
As for the cheese, it is one of the most important elements of a Turkish breakfast. Cheese varieties vary depending on the region, with the Aegean coast enjoying white cheese (beyaz peynir) and Bergama Tulum and the Black Sea coast serving kolot peyniri, aho peyniri and tel peynir. On the other hand, comlek peyniri is the common cheese variety in Central Anatolia, while Eastern Turkey has its very own otlu peynir and deri tulum.
In the past, weekend breakfasts were predominantly a family affair held at home. The whole family would congregate to have family and friendly conversations, and as a result, the meal would last hours. Today, it's still a family-oriented meal, but more families are getting it in breakfast restaurants.
2. Lunch
They typically consist of meals that do not require preparation time and effort, like soups and salads. Due to the prominence of soups, such dishes are referred to as 'sulu yemek,' which translates to 'dishes with water.' In addition, they are prepared using seasonal ingredients, so what you take for lunch during summer may not be what's available during winter.
For instance, summer soups are generally cold and nutritious. These are prepared to help beat the summer heat and are sometimes called 'yayla corbasi' or simply 'yogurt corbasi.' They are typically yogurt-based and can be prepared with chickpeas, whole barley grains, or rice seasoned with mint.
Although most lunches are easy to prepare, there can be exceptions, especially with comfort foods like 'manti,' 'pide,' and 'lahmacun.'
3. Dinner
Dinner in Turkish cuisine is the most elaborate meal of the day. The dinner table is filled with a variety of sumptuous dishes because it's the only time, apart from weekends, that all family members assemble.
Dinner in Turkey usually starts with warm soup. This is followed by a vegetable dish (prepared from eggplant, potatoes, cauliflower, zucchini, spinach, or green beans), legumes (lentils, beans, chickpeas, etc.), or meat boiled in a pot. Finally, the stew is served with starchy foods like bread, pasta, Turkish rice pilaf, or bulgur. Green salads or cacik may also be served during dinner.
At around 10 pm, families may partake in Yatsilik, an official meal that consists of fruits, fried or otherwise, and nuts. These may include plums, figs, almonds, hazelnuts, walnuts, roasted pumpkin seeds, roasted chickpeas, etc.
The Key Ingredients of Turkish Cuisine
The core of Turkey's culinary marvels consists of a wide variety of ingredients. Generally, Turkish cuisine consists of vegetables, legumes, meats, spices, grains, nuts, and oils.
Nuts typically consist of chestnuts, almonds, walnuts, hazelnuts, and pistachios.
Legumes include chickpeas, lentils, beans, and broad beans.
Meats usually include lamb, chicken, beef, and fish.
Rice and bulgur are widely used as grains. Traditional Turkish oils include olive oil, sunflower oil, and hazelnut oil.
There is a whole spectrum of spices, including red pepper, thyme, mint, coriander, black pepper, saffron, nigella seeds, rosemary, coriander, cumin, sumac, poppy seeds, and cloves.
There are also a whole lot of vegetables. These include okra, pea, zucchini, chicory, carrot, green peppers, spinach, artichoke, tomato, mallow, cabbage, celery, potatoes, cauliflower, mushrooms, asparagus, beets, leek, lettuce, arugula, eggplant, purslane, radish, and garlic to name a few.
The availability of these specific ingredients varies by region.
Turkish neighborhoods come to life every week as vendors set up stalls in local markets to sell their products. These markets are where most Turkish households obtain their food ingredients. On market days, the atmosphere there is vibrant, with a lot of jostling and haggling as vendors compete for attention and buyers move through stalls.
But perhaps most attractive is the cacophony of sights and smells. The scenery here is colorful and dazzling spices, with wisps of aroma from high-quality fresh food ingredients. As such, bazaars are the best places to start your culinary tour of Turkish dishes. Some of the best neighborhood markets and spice bazaars worth a visit include; the Egyptian/Spice bazaar, Kastamonu Pazari, Bolu Pazari, Yalikavak Pazari, Kemeralti Carsisi, Grand Bazaar, Tire Pazari, Safranbolu Pazari, Ferikoy Organik Pazari, among others.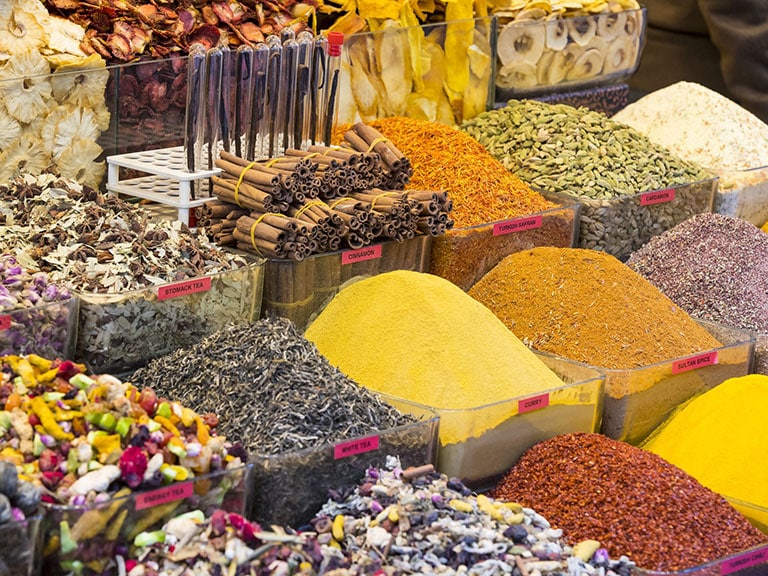 Spices
The western impression of Turkish food is that it is very spicy. However, Turks don't just use spices for the sake of throwing in as many flavors as possible. Instead, every dish is prepared to bring out the main ingredient's flavor instead of burying it under sauces or spices. So, cabbage will still taste like cabbage, lamb-like lamb, and beans like beans, albeit with a much richer flavor.
Grain, Rice, and Pilafs
Pilaf is a staple in the Turkish kitchen. Even then, there are still high standards for its preparation and are thus a demonstration of one's cooking skills. The most common pilafs are rice pilaf and wheat pilaf. They are usually cooked plain but can also be flavored with nuts, fruits, and spices.
Preparing the rice pilaf is an art since the rice should roll out rather than stick together in mushy clumps. These versions are usually prepared as an accompaniment to meat, fish, or vegetable dishes.
Like the Sultan Pilavi, some less common pilafs are made with meat, fish, and vegetables. There are also substantial pilafs that can be served with a salad and eaten as a full meal. These include the Safranli Midyeli Pilav, Yufkali Pilav, and Ic Pilavi.
On the other hand, wheat pilafs are prepared using sliced tomatoes, whole onions, and green peppers sautéed in butter. They are pretty substantial and, thus, can be taken as a meal in itself. Generally, pilafs are served cold with plain yogurt in the summer months.
Away from the pilafs, rice is still a popular dish, especially when served with chickpeas.
Vegetables
Turks consume many vegetables in their diet. These are usually cooked as standalone vegetarian dishes or mixed with meat, beans, or rice. Fortunately, the vegetables cultivated in Turkey are delicious and nutritious. So, a purely vegan meal can still be a satisfying meal even for the most passionate of meat lovers.
Simple vegetable dishes are prepared by slicing the main ingredient, such as eggplant or zucchini, and slowly cooking it in butter with tomatoes, onions, and green pepper. Other dishes are a little more complex and feature unique recipes that vary from home to home.
Generally, though, there is a whole class of vegetable dishes cooked in olive oil. These include most of the vegetable ingredients present in Turkey. They are usually prepared using olive oil and chopped pepper onions with tomato paste or pepper paste.
Vegetables fried in olive oil are a staple of Turkish cuisine, but the preparation may vary with the season. However, minced meat is rarely added to the pot as olive oil dishes don't go very well with meat.
Note that live oil vegetable meals may be taken warm, at room temperature, or cold.
Dolma is another class of vegetable dishes in Turkey. Their name, a derivative of the Turkish verb "doldurmak" (to fill), suggests that these are stuffed vegetables. Any vegetable that can be stuffed or wrapped around the fill can be used in dolma. Therefore, there is a great variety of dolmas in Turkey, including those that use grapevine leaves, tomatoes, zucchini, cabbage, green pepper, and eggplants.
Most Dolmas are stuffed with a rice mix or a meat mix. Rice dolma is cooked in olive oil and consumed at room temperature, while meat mix can be taken as a main-course dish together with the yogurt.
Popular vegetable ingredients/dishes in the Turkish menu include:
Kizartma: Deep-fried vegetables like potatoes, zucchini, green peppers, and eggplant. They are usually served with a yogurt source.
Mucver: Graded vegetables mixed with flour and egg before being deep-fried. The most common ingredient is zucchini.
Karniyarik: Eggplant stuffed with chopped-up garlic, green peppers, onions, tomatoes, and ground beef and baked in an oven.
Kabak oturtma: Zucchini roasted with minced beef or lamb.
Kapuska: Thin white cabbage stiffed with onions and tomato sauce. It can also be cooked with minced lamb or beef.
Turlu: Prepared by cooking zucchini, onions, potatoes, eggplant, and onion.
Ispanak yemegi: Spinach, onions, and rice cooked with tomato paste and eaten with garlic yogurt.
Bread in Turkish Cuisine
If there is one meal that's secured a permanent spot in the hearts and plates of the Turkish population, that would be bread. It has remained an important part of regional meals for thousands of years.
In the Ottoman era, bakers believed that the Archangel Gabriel taught Adam how to bake after expulsion from Eden. This belief explains why bread was, and still is, enjoyed and respected by everyone, rich or poor, educated or uneducated, simple or sophisticated.
Today, any Turkish meal- breakfast, lunch, or dinner- without bread is incomplete. It is considered an indispensable component of every meal and is eaten as a snack or with soups, meat, and vegetables. As a result, Turkey has the highest bread consumption per person globally, with the average Turk consuming around 199.6 kg (440 lb) of bread annually. That's almost three times their weight!
Some popular types of bread in Turkey include:
Somun Ekmek: This bread has a soft golden yellow color and is one of the most consumed in Anatolia.
Lavas: Lavas bread is commonly used to make wraps. It is prepared from water, flour, and salt.
Pide: Also known as pita, pide bread is a type of flatbread.
Misir Ekmegi: This bread is prepared from cornflour and is high in nutrients. It is common in the Eastern Black Sea Region.
Yufka Ekmek: This wheat bread has been consumed in Anatolia for thousands of years. When fresh, it is the main ingredient in pancakes and borek. On the other hand, it can be made to last for up to 12 months if fried up.
Manti is another wheat-based cuisine in Turkey. This dish consists of dough dumplings filled with a special meat mix. Its usually taken during the weekends as lunch and is served with a dash of melted butter and garlic yogurt as accompaniments.
Borek is another popular wheat-based meal. The dish consists of thin sheets of dough layered or folded into various shapes and filled with meat mixes or cheese. These are either baked or fried before being served.
Soups
There are more than 200 soup recipes in Turkey, making the Turkish soup menu the richest and most diverse globally. You can practically have soup for breakfast, lunch, and supper if you want to. Some common soups in the country include:
Cold ayranasi soup, prepared from bulgur and chickpeas. It's a tasty and nutritious soup commonly consumed in the summer and can be served chilled or lukewarm.
Lentil soup (mercimek corbasi), prepared from red lentils, potatoes, and lamb/chicken stock and spiced with carrots, onions, and garlic.
Chicken and vermicelli soup (Sehriyeli tavuklu corbasi), prepared from chicken, vermicelli, and butter.
Tomato soup (Domates Corbasi), a roasted tomato soup that served as a prelude to most Turkish lunches and dinners. Ingredients include tomatoes, garlic, onion, olive oil, flour, water, fresh basil leaves, salt, and freshly ground black pepper.
Others include tripe soup (iskembe torbasi), tarhana soup (tarhana corbasi), and cheek and shank soup (kellepaca corbasi).
Meat
Those who love meat will find a home and a full stomach in Turkish cuisine. The country has some of the sweetest and most iconic meat dishes globally, like kofte and kebab. Meat comes from chicken, beef, and lamb and is prepared in various methods; roasted, grilled, fried, skewered, etc.
Kebabs are perhaps the biggest export of Turkish meat cuisine. In Turkey, it's cooked both at home and in restaurants using spiced beef, lamb, or chicken. . Every region in Turkey has its unique kebab style.
The western world is more familiar with the doner and sis kebab varieties. Doner is prepared by stacking alternating layers of sliced lamb leg and ground meat on a large skewer. The vertical skewer is slowly rotated to roast the outer layer of the meat, from which thin slices will be shaved to be served. On the other hand, sis kebab is grilled cubes of skewered meat.
There are other kebab variants, which are cooked in pots drily without water. These are easier to prepare than grilled kebabs and, thus, commonly prepared at home.
Kofte can be prepared using ground beef or lamb, skewered meats, or grilled meats and grilled tomatoes, eggplant, and peppers. It is a common delicacy in family picnics.
Nomadic Turks inspired raw kofte. It is prepared by kneading raw double ground meat with thing bulgur and hot spices for several hours.
Izgara refers to the general way used to prepare meat dishes in Turkish meat restaurants. These include kofte, shish, or lamb chops. In Turkey, you'll find two types of restaurants; those specializing in only grilled meats (meat restaurants) and those selling meat alongside other local dishes.
Fish & Seafood
Bathed by four seas, the Mediterranean, Aegean, Marmara, and the Black Sea, Turkey is rich in fish and seafood. However, to get a good taste of these, you must visit the coastal areas because fish and seafood in the interior are pretty expensive.
Fish in Turkey is prepared by frying, grilling, or cooking slowly by the poaching (bugulama) method. The most popular fish in Turkish cuisine is the anchovies, which are usually served cornflour-coated. They can also be prepared in a variety of ways, but their availability depends on the season.
Typical fish dishes include mackerel, sardines, bonito, farmed sea bass, and farmed sea bream. Seafood, on the other hand, is mainly served in restaurants. These include clams, oysters, crabs, octopuses, bugs, lobsters, prawns, calamari, scallops, and squid.
Turkish Street Food
Turkey is home to some of the best street foods in the world. These are quickly prepared, delicious, and thus, a firm favorite among locals and tourists. Some of the most famous street foods in the country include Doner, Pide, Gozleme, Lahmacun, Simit, kofte ekmek, cig kofte, Kokorec, and Kumpir.
Turkish Beverages
When it comes to beverages, Turks love tea above all else. The average citizen drinks multiple cups of tea a day, and it's offered to guests in all homes and businesses in the country. However, Turks usually brew their tea in a teapot and serve it in glass cups.
Coffee is quite common but nowhere near as famous as tea. Traditional Turkish coffee is prepared in a small copper pot (cezve in Turkish) and served in small porcelain cups. There is a common belief that the coffee ground left at the bottom of the cup after drinking can read the drinker's future.
Alcoholic drinks, on the other hand, are pretty appreciated, despite the country being considered to be predominantly Muslim. Raki is a famous traditional Turkish alcoholic drink that contains a high alcohol percentage and thus, should be consumed slowly. Here is a detailed read on how to drink Raki aka the lion's milk.
Other local drinks include Ayran, Sahlep, Salgam (turnip juice), and Boza.
A rich selection of dishes at great places
There are lots of great restaurants in Turkey serving delicious local meals regardless of the price. So, restaurant hopping during your Turkish experience is the best way to sample our rich selection of dishes. Thus, learning the proper terminology makes it easier to navigate through the Turkish cuisine scene. Here are a few valuable words:
Afiyet Olsun mean enjoy your meal.
Elinize saglik, which means health to your hands. Its interpreted as appreciating the chef/cook.
Serefe, meaning cheers.