It is often a question mark for most travelers: shall I book a tour guide for my Turkey trip or plan a self-guided trip? The travel tech is also developing, and some booking engines have started to offer customized trips, but the Oscar still goes to the guides. Yes, even if you are travel-savvy. Are you not convinced yet? Here are some reasons to book a professional tour guide while in Turkey!
1. Guides are always up-to-date with destinations.
Turkish guides are not only excellent in your native language, but they are fully equipped with the history of each destination on your list. No, that is not all! The best places to eat, the best time to visit, the best angles and light for the perfect photo (not only the one million-time repeated Insta shots), distance in-between places, the traffic hours, and tens of other factors that will make a trip a lifetime experience or a wasted one. So, no matter how many guidebooks or so-called traveler blogs you have read, you can beat this! (most of those could be written then, thanks to the Turkish guides as well)
2. A good Turkish guide never stops learning!
Turkey is renowned for its ancient history, being home to numerous civilizations since the beginning of human history as far as our knowledge goes. Welcoming more than 30 million tourists annually and growing, Turkey has hundreds of new excavations, places to visit, activities, and under-the-radar things that are newly becoming trendy. It is like a traditional recipe repeated for hundreds of years; it is alive and changing daily. So, it is nearly impossible for someone to keep track of those trends, but a tour guide can do that. Their passion for their job and their engaging commentary will make yours a journey to remember!
3. A guide can highlight the important things most people don't get to see.
While visiting museums and historical monuments, there are numerous things most tourists don't realize that they miss some of the little but most important details. A pile of stones or a tiny artifact might come alive with a guide's expertise. A tour guide will put what you see in its historical, religious, and cultural context—enjoyed what you have heard about that story? Ask more questions and anything else that sparks your curiosity.
4. A guide is the wisest when it comes to timing.
There are indeed museum pass tickets and audio guides available if you are trying to avoid booking a tour guide. However, all that hassle of obtaining the necessary items is just the beginning; using them wisely and getting the most out of them is another challenge. The hassle of booking tickets, making reservations for places if needed (e.g., Dolmabahce Palace in Istanbul), and checking opening/closing times (and some days, some museums in Istanbul are not open) is way easier for a tour guide. Most importantly, a tour guide will know when it is less crowded, what places are most important or what to skip, and if there are any insider tips and tricks to avoid crowds. Finally, you will get to see more without any hassle and save time and cash for other places.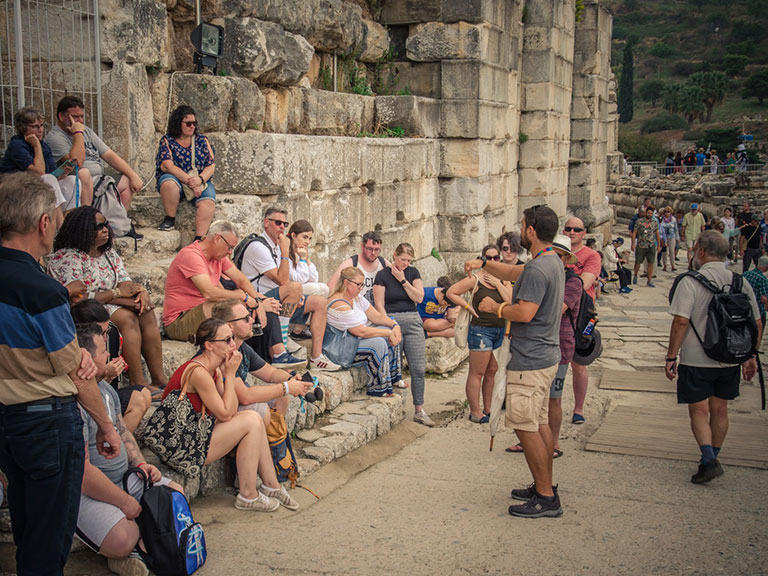 5. Turkish guides are all educated and trained to become a guide.
Studying tour guiding is a serious business in Turkey. While there are more accessible courses available today, it is still a university degree that covers history, archaeology, history of art, tourism, foreign languages, services, and many more. Once a tour guide successfully achieves this study, an educational tour of Turkey is next to complete. On this tour, they are trained and educated by one of the top-expert tour guides with the idea of passing the service quality to the newbies.
We don't like the terms "certified," "official," or "licensed" for the fact that if your tour guide is not licensed, this person is naturally not an official one but is highly probably a scammer. So, make sure you are hiring an official licensed tour guide (carrying the Turkish Ministry of Tourism's badge that they have to wear while on duty).
6. Guides are always flexible, and they are great decision-makers.
As travel agents, we experience times when we forget to double-check the guests' travel type, and there are times guests do the same while inquiring or even during the booking process. Here is another time you will be thankful for booking an expert tour guide for your Turkey trip, as guides are always flexible and ready to make significant decisions to customize your trip even further to match it to your interests. Sometimes, this happens naturally, even to you, without realizing it.
7. We bet Turkish guides are the friendliest in the world!
It is no doubt there are not many countries that can compete with Turkey when it comes to hospitality. Turkish guides, also known as the true ambassadors of Turkey, are always passionate, and it will not matter to an expert tour guide if your tour is the very 1st or the 10,000th.
They can offer insider tips like where to find the best local restaurants for dinner, the best things to do during your leisure time, or where to buy the non-touristy souvenirs.
You will enjoy the company of a new friend you just made overseas, and you will not even realize how time flies by. Once you are back home, you know who to recommend for your lookalike friends around your environs.
How many guides are there in Turkey?
There are more than 9,000 guides that are officially licensed and actively doing this job.
Can I find a guide for my travel style?
As noted earlier, guiding is a never-ending study. That is another reason that matches the character of those eager to learn for their lifetime.
Since travel became broader and way before people started to look for the themed trip, either as a personal interest or coded genetically, a tour guide can also be:
Family traveler
Photographer
Wine expert
Food lovers
Historian (or even better)
Archaeologist
Spiritualist
Art historian
Painter
Hiker
Shopper
Surfer / Diver
Botanist
and many other special interests you might imagine.
Still, where in Turkey is it ok to avoid booking a guide?
If you are planning a scenic ride itinerary, such as driving along the Black Sea coast from Sinop to the Georgia border, that is fine. The same applies to the nice ride and the Mediterranean coast, but don't miss out on the important notes of driving in Turkey.
Without a tour guide, you will still miss the important stuff en route, but that is not the end of the world if your first wish is to drive.
However, if this is your first time and even if you are well-traveled, the chances you will fail to fulfill your self-guided trip are higher.
For example, unlike most European capitals, Istanbul is hectic and full of tourist traps, chaotic traffic, etc. Therefore, it is pretty exhausting and time-wasting without a tour guide.
So, for the sake and comfort of traveling abroad, please let us take care of this with an expert tour guide taking you around, sharing a fountain of information, following your pace and passions, and handling it all for you.
Why do people prefer self-guided tours, then?
There are two possibilities: either they had a bad experience and don't want to risk it again, or they think the opposite of what we explained above. Unlike the overcrowded buses and hordes of tourists, we operate only on private tours with a certain level of service quality to ensure that you get a personalized experience. Gone are the times of boring tours jam-packed with tourists. So, invest your valuable time and book your expert-guided trip to Turkey!
At Made in Turkey Tours, we connect you with exceptional, authentic, personalized tours unique to each destination. We love our guests and want to do everything in our endowment to seal our all-time service quality of a safe and delightful tour. Next time you are thinking about planning a self-guided tour of Turkey, try booking one of our guided tours instead. Sit back, sip that Turkish Raki, and enjoy everything your perfect trip offers!