Wine culture on earth has existed for almost as long as human ceremonies have. Therefore, it is widely accepted that wine is the most treasured drink in human history. And today, wine is still considered the epitome of style and good taste on any occasion. Many weddings treat their guests to some wine in the reception; any classy restaurant will serve a glass of wine alongside its best recipes, romantic dinners involve a few glasses of wine alongside the red candles, and so on.
Turkey is one of the regions with the most prolonged grape and wine history in the world. It has a rich wine culture and is home to some of the modern age's finest wines. The average price of a bottle of good Turkish wine is between 60 to 450 TL at a wine shop, while a good glass of Turkish wine will cost around 60-100 TL if at a restaurant. Many people touring Turkey can't get enough of this sweet drink, which is why we will be exploring the country's wine history and some of the best Turkish wines that you can enjoy.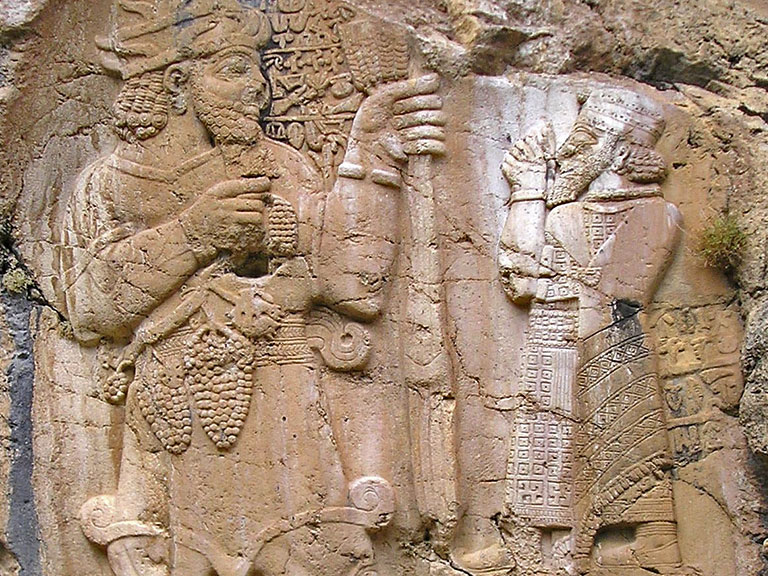 History of the Turkish Wine
The region's history with wine dates back around 11,000 years ago in Anatolia, where the Vitis vinifera (domesticated grape) originated in the Black Sea region. The grapes then spread to the ancient Middle East parts of the world, including Mesopotamia, between the Euphrates and Tigris. The vinifera grape then spread eastwards to Egypt and Phoenicia. From around 4,000 years ago, Phoenician sailors further spread the grapes by ferrying them across the Mediterranean to Greece and other parts of modern-day Europe.
Evidence shows that while all this was going on, the wine was already a fairly standard drink in central Turkey. Historians have also gotten other evidence of wine in Turkey from the Hittites. It is believed that their civilization came into contact with grapes and wine in Anatolia adopted the culture. According to the Assyrians, whose kingdom flourished between the 9th and 7th century BC in Northern Mesopotamia, the region under Hittites produced more than ten different quality wines.
When the Hittite empire fell, the wine practice in the region was taken over by the Phrygians, who were letter conquered by the Greeks. Here, the Greeks were first introduced to wine and, in time, played an essential role in the spread of wine culture in the ancient world. In this period, the Greek traders introduced Misket grapes of Anatolian origin to Europe. These grapes then went on to be called Muscat by the Europeans.
With the Greek Empire's decline, the Romans took up where the Greeks left off and further carried on the tradition. Dionysos became Bacchus, and the consumption of wine became an even more common practice in their empire.
After Christ graced the earth and Christianity became the dominant religion of the Roman Empire, the region managed to retain its wine and winemaking traditions. Christians associated wine with the blood of Christ, earning it a sacred and prestigious spot in their religion and ceremonies. Therefore, the production and consumption of wine significantly increased, with monks at the center of it all. This can be seen in ancient wineries, a standard part of Christian monasteries and religious centers throughout Turkey.
New regions like Cappadocia in central Turkey were explored and exploited for their vine growing and winemaking capabilities. To this day, Cappadocia remains one of the leading wine-producing centers in Turkey.
However, things changed when the Ottomans invaded Byzantium in the 13th century, and Islam spread throughout the land. Islam teaches its followers to shun alcoholic drinks, and thus, the production of wine in the Turkish region was significantly slowed down. Nevertheless, the Ottoman Empire did not place any severe restrictions on wine production and consumption by non-muslim communities.
In the 19th and 20th centuries, the Ottomans fell, and Turkey was declared a republic. The Greek population at the heart of winemaking in the country emigrated and was replaced by Muslim Turks. The production of wine in Turkey significantly decreased, and there was even a brief period of alcohol prohibition.
In the late 1920s, the Turkish government took steps to revive the wine industry. The first private wineries were established in Thrace and Ankara. From the '30s, TEKEL was established as a state-run monopoly with 28 small scale wineries all around Turkey by 1946.
By the '50s and '60s, Turkey had hit its peak wine production and consumption levels. When the country became a major tourist destination, the industry had to take steps towards improving the quality of wine to satisfy the tastes of foreign tourists. TEKEL was then privatized in the early 2000s and took on the name MEY. By the end of the 2000s, Turkey had snatched a spot amongst the world's best wine-producing regions, with its wines winning several international awards.
The 15 of the Best Turkish Wines
1. Doluca Alcitepe C. Sauvignon- Shiraz 2016 (Canakkale)
This Turkish wine is made from grapes of a single wine and aged for ten months in 15% American and 85% French oak barrels, filtered in a limited way.
Alcohol content: 14.5%
Color: dark purple
Smell: It has a mature jam-like red and black fruit smell with dark chocolate and slightly sooty tones.
The wine should be taken in a decanter before drinking and goes well with marinated meats. In the past, the Mundus Vini has won the Best of Show Turkey Red award.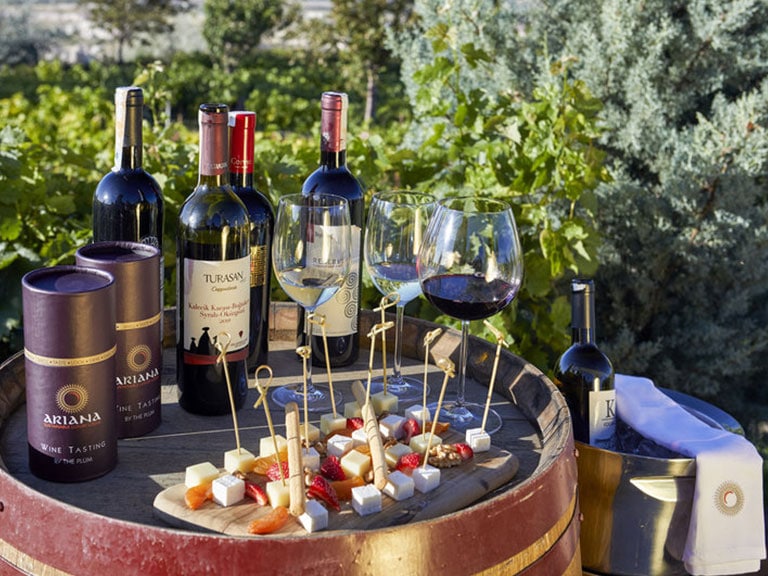 2. Turasan Grande Reserve
This red wine by the Turasan winery is made from Shiraz/Syrah and Cabernet Sauvignon grapes from the Ankara region. It has a dark ruby hue with sweet berry, oak, and pepper aromas.
3. Sarafin Shiraz 2017 (Tekirdag)
The Sarafin Shiraz uses the Shiraz grapes, which have dark skin, in production. The wine is then aged one year in American and French barrels, developing an alcohol level of 14.5%, a dark red color, and green pepper with a dark fruit taste. It has firm acidity with notes of leather, vanilla, oak, and cedar in its fragrance.
It is best when served with red meat, goat cheese, or grilled game.
4. La Wines Meandros 2016
This is a combination of the Cabernet Sauvignon, Shiraz/Syrah, Merselan, and Merlot grapes, from Izmir. It is aged in barrels for 17 months and can be retained for up to 14 years.
Alcohol content: 14.5%
Color: purple/dark ruby
Fragrance: sweet vanilla, black plum, black cherry, currant, and a subtle bell pepper note with cinnamon, black pepper, and leather churls.
Taste: it has a full-bodied, velvety soft taste with a delicious and creamy sweetness and resembles ripe fruits and spices. The acidity is medium with slightly dry, firm tannins and a long finish.
5. Suvla Blush Karasakiz 2019
The wine is made from Kuntra grapes from Gallipoli that ripen in the early week of September.
Alcohol content: 14%
Color: salmon pink
Smell: It has a fresh and fruity orange sugar scent
Taste: rose aroma with plum, green grape, strawberry, and cranberry tones.
The wine is delicious when served with black Angus meat, caramelized seafood, or marinated bream.
6. Kavaklidere Prestige Kalecik Land 2016
This wine is made from Kalecik grapes grown in the Kavaklidere vineyards of Ankara, and the wine is aged for 9 months in French oak barrels.
Alcohol: 14.2%
Color: dark ruby
Smell: a spicy fragrance that is a blend of mulberry and cherry juice
Taste: a sweet taste with tones of plum, pomegranate seeds, and dried cherry.
The wine goes well with blackberries and red meat.
7. Kavaklidere Pendore Okuzgozu 2016
The wine is prepared using black grapes from the Kavaklidere Pendore vineyards. Ripe grapes are handpicked, and the wine is matured in French oak barrels for 11 months.
Alcohol: 13.9%
Color: dark purple
Smell: tobacco fragrance with cocoa notes
Taste: flavors of black fruit and olive
8. Lucien Arkas Consensus Chardonnay 2018
This wine is made from Chardonnay grapes and is aged for 4months in French and American oak barrels. The barrels are lightly roasted.
Alcohol content: 14.5%
Color: golden yellow
Smell: a sweet fragrance that is a blend of pear, peach, vanilla, passion fruit, pineapple, and bread crust
Taste: a round caramel taste with uniform acidity
Lucien Arkas Consensus goes well with grilled seafood and ripe cheese.
9. Suvla Reserve Cabernet Franc 2016
This wine is aged in oak barrels for 12 months.
Alcohol content: 13.5%
Color: an opaque dark burgundy hue
Fragrance: leather, tobacco, and spicy curls
Taste: exotic tobacco and spicy leather taste that stays on the palate for a long time
The wine goes well with spicy meat dishes.
10. Doluca Alcitepe Cabernet Sauvignon-Shiraz 2011
This wine is produced from Cabernet Sauvignon grapes from the Alcitepe vineyard. It is matured in French oak barrels for nine months.
Alcohol: 14.5%
Color: deep ruby
Smell: plum and spicy tones
Taste: a tight texture with dense and robust tannins
11. Doluca Karma Cabernet Sauvignon-Okuzgozu 2017
The wine is made using Tekirdag and Eastern Anatolia grapes. It is rested for 12 months in French and American oak barrels.
Alcohol: 14.5%
Color: dark burgundy with purple highlights
Fragrance: black fruit bouquets with sweet tones closely resembling vanilla and caramel
Taste: plump with mature tannins and vibrant modern red
The wine is delicious with lamb and veal and is best within 2-3 years.
12. Kavaklidere Cotes d'Avanos Chardonnay 2018
This wine comes from grapes reared in Kavaklidere vineyards in Cappadocia. It is fermented for ten months in French oak barrels.
Alcohol content: 13.5%
Color: light golden yellow
Smell: bouquets of nectarine, citrus, and apricot, with buttery and light smoked tones.
It is best served with fish and organic poultry.
13. Kavaklidere Pendore Syrah 2014
Grapes from the vineyards of Pendore in Kemaliye are used, and the wine is rested in French oak barrels for ten months.
Alcohol: 14.5%
Color: deep burgundy
Smell: bouquets of menthol, ripe black fruits, and spice curls
Taste: a strong and mature refined tannins taste with a tight texture
Delicious within six years and goes well will steaks and rustic stews.
14. La Mon Reve Marselan 2018
The wine comes from the organic vineyards in Torbali and is the country's first hybrid.
Alcohol: 15%
Color: dark ruby with purple highlights
Fragrance: dense and vibrant fruity bouquets of peach, black cherry, and nectarine
Taste: firm and flexible tannins with lively acidity and fruity flavors that stay long on the palate.
It goes well with meat dishes and kebabs with little spices.
15. Vino Dessera VD Cabernet Franc 2018
Prepared from French grapes and aged in oak barrels for eight months.
Alcohol: 14.2%
Color: burgundy
Smell and taste: Intense fruity bouquets with a medium-bodied taste in the mouth that leaves behind mineral-like traces.
It goes well with spicy red meat dishes and kebabs. It should be transferred to the carafe before drinking.
Let Us Take You on a Delicious Adventure
If you are up for a delicious adventure exploring Turkish wine, inquire for a private tour that offers an unforgettable tasty pairing of the best food and wine guided by industry experts.