Istanbul is not only the largest city in Turkey but also one of the most popular tourist destinations for visitors worldwide. Its rich history and culture were established during the Roman period, and its importance as a cultural center attracts hundreds of thousands of tourists from all over the world.
This vibrant city has something for everyone, from museums to historical sites, stunning mosques, churches, or synagogues to lively entertainment. However, when it comes to travel, everyone wants to know some of the most popular sites to see and things to do, and Istanbul is no exception!
As sophisticated travelers, there's more to see & do than just the bullet points on your guidebook. If you want an authentic experience and explore the city like a local, here are 18 unusual things you can do to get under the skin of this vibrant city:
1. Experience the Kumkapi Meyhane
Kumkapi is a neighborhood in Istanbul, Turkey. It is located along the coast of the Marmara Sea and has many restaurants serving meze and raki. A meyhane is a Turkish tavern that serves Turkish Raki and delicious mezes, mostly with fish as the main course. The loud music and extravagant culture of this place make it a must on anyone's list of places to visit in Istanbul.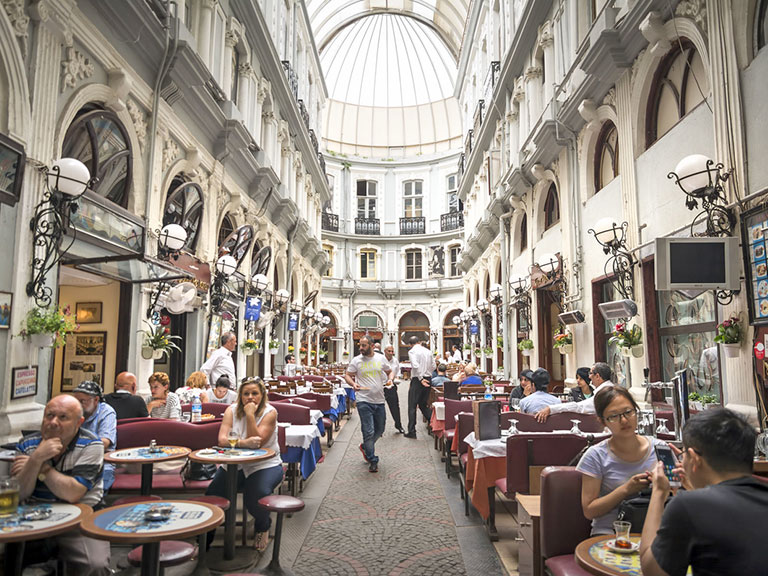 2. Go for a drink at the Cicek Pasaji
Cicek Pasaji is a small street in Beyoglu, another hidden gem for travelers, although it has been there since 1876. It has many restaurants and bars and is popular with locals and tourists. The best part about this place is that it's right by Istiklal Street—so you can get a nice stop here if nearby!
3. Experience the Street Food
Food is a big part of any city, and Istanbul is no exception. However, while eating out can be a joy in this vibrant city, eating street food can also be an experience that you won't soon forget. It's fast, it's fresh, and the variety will blow your mind!
There are vendors everywhere selling everything from doner kebabs to baklava (a sweet pastry made with nuts). You'll have to fight off some serious hunger pangs as you walk through the streets because it seems like every second store sells something edible! Your best bet is to check out some local restaurants instead of going for just one type of dish.
Most importantly, street food requires a piece of profound knowledge and unless you are on a guided tour, beware of the bad food despite the long lines!
4. Play Turkish Backgammon at a cafe
This game is played with two dice and 15 pieces, usually made of horn or bakelite. The idea is to move your pieces around the board, divided into four sections by lines that cross each other at right angles. Each player starts with three pieces on their side of the board; they must try to get all of their pieces into their home zone while preventing their opponent from doing so.
Players can only put one piece in a square at a time, so it takes a while for them to reach home—but some players will be able to reach home faster than others if they have more luck rolling doubles at the right time.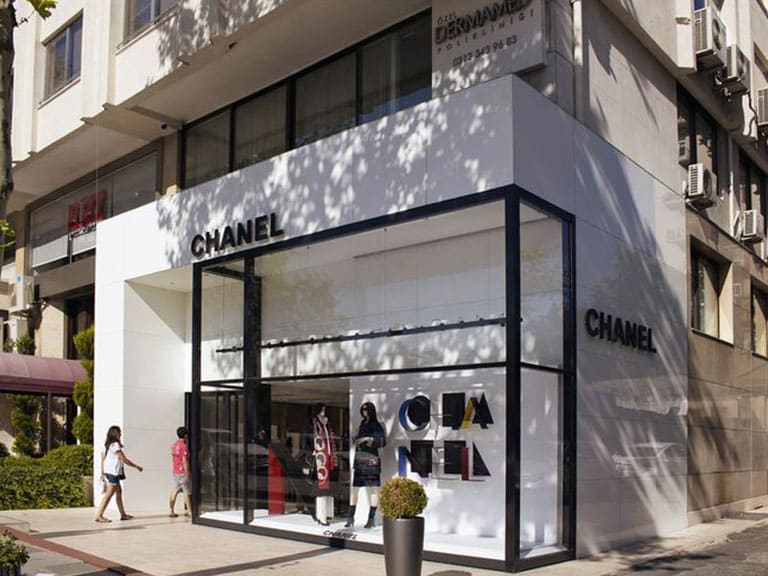 5. Shopping at Nisantasi
Nisantasi is a district in Istanbul, Turkey. It's an excellent area for shopping, with many high-end boutiques and luxury shops. Nisantasi has some of the most prestigious brands on its main streets, such as Dolce & Gabbana, Prada, and Louis Vuitton.
6. Discover an ancient Roman aqueduct
The Aqueduct of Valens is one of Istanbul's most impressive structures, which was built in the 4th century AD, and used for drinking, irrigation, and to supply hundreds of public fountains and baths.
The aqueduct is located about 20 minutes from the city center in the Fatih district. When you arrive, you can take a closer look at its entire length and take a closer look at the original Roman stones that are more than 1,800 years old!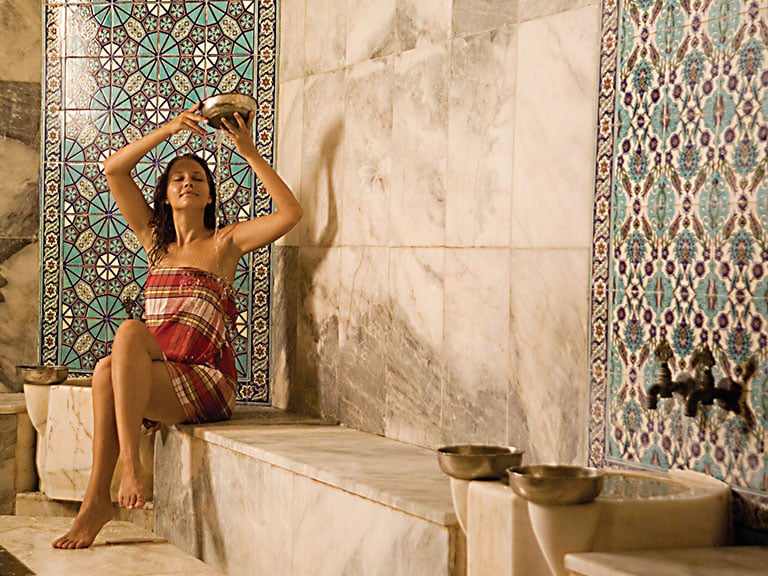 7. Visit an Ottoman hamam
When you get to your hotel, the first thing you should do is visit a hamam. While it's true that many people don't know what a hamam is, and some even confuse it with a sauna or steam room, there are many differences between these types of bathing places.
A hamam is an ancient Turkish bathhouse where people go to relax and unwind while also getting clean and healthy. It's also where you can meet new people and socialize with them—or even get a classical Turkish scrub massage to get rid of the dead skin and start your trip just as reborn if that's what you're looking for!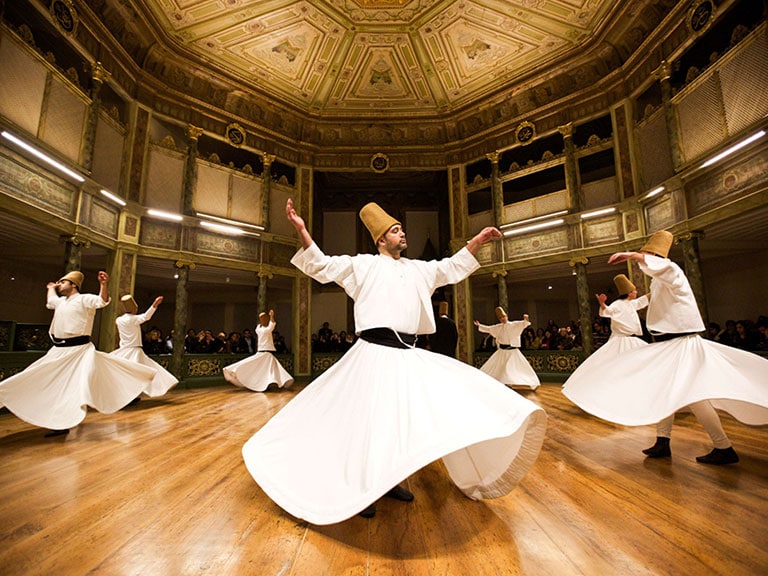 8. Sit in the Galata Mevlevi House
Located near the Galata Tower, this private museum and teahouse are where you can enjoy a cup of tea while learning about Ottoman poetry. The building is also home to one of the oldest Sufi orders in Istanbul.
9. Admire some unique calligraphy art
Calligraphy is a form of art that involves the use of a pen or brush to write letters, words, and sentences. It can be used in any language, from Arabic to Hebrew to Latin. Calligraphy is also used on different materials, such as paper or canvas.
Calligraphy has been around for thousands of years and is still popular today!
10. See some fantastic exhibits at the Pera Museum
Located in the heart of Beyoglu, Pera Museum is a museum of art and culture that was designed by the famous French-Ottoman architect Alexander Vallaury (1850-1918), who also designed other well-known Istanbul structures, such as the Pera Palace Hotel, Istanbul Archeology Museum, Abdulmecit Mansion, Buyukada Greek Orphanage, and Ottoman Bank.
The museum is housed in the historic Pera Palace, initially built in 1906 as a luxurious hotel to host the top-tier clientele of the Orient Express. Today, it houses one of Turkey's most important collections of Western Art from the 19th century onwards, including works from artists such as Picasso and Matisse. The permanent collection consists of over 2,700 objects, including paintings, sculptures; drawings; photographs; furniture, textiles, metalwork, ceramics, etc., all displayed within this beautiful building with its magnificent Moorish architecture style.
11. Enjoy a glass of wine at a local vineyard
If you're looking for a more sophisticated way to enjoy Turkish wines, visiting one of the many vineyards around Istanbul is probably the best option.
The most famous Turkish wine regions are located near Thrace and Izmir on Turkey's northwest and west coasts, but there are also some great producers in central Anatolia. Hundreds of different grape varieties are being grown here: some very old, like Sultaniye and Bogazkere (cultivated for more than 7000 years now), while others like Okuzgozu have only been introduced relatively recently.
12. Soak up some history at Ihlamur Pavilion
Located between the Besiktas and Yildiz districts of Istanbul, Ihlamur Kasri is a former imperial Ottoman summer house that was constructed during the reign of Sultan Abdulmecid I (1839-1860).
The building has two entrances: one that faces west and another facing south. The west facade has five arched porticos with columns made from marble from Greece and Italy. The ceilings are held up by wooden beams decorated with geometric patterns. In addition to relaxing in a beautiful garden here, you can also visit Ihlamur Pavilion's small museum for information about the building, its history, and its architecture.
13. Enjoy the art in the narrow alleyways of Cukurcuma
Cukurcuma is the oldest neighborhood in Istanbul, and it's often called the city's hippest hood. Home to street art, many cafes, and restaurants, a few bars and clubs, as well as several art galleries (including contemporary photography), Cukurcuma is a great place to enjoy a free afternoon. In addition, the neighborhood has many narrow alleyways that lead off from its main streets; if you're looking for something different to do in Istanbul, this might be a good place for you!
14. Buy locally made products at Arasta Bazaar
Arasta Bazaar is the perfect place to find locally made products such as handcrafted glassware, spices, and souvenirs. It's located in Besiktas, a district of Istanbul known for its beautiful buildings and architecture. Arasta Bazaar is open every day except Mondays from 9 am to 6 pm (except Sundays).
15. Discover the secrets of Turkish coffee reading in Besiktas
Turkish coffee reading is a traditional Turkish art. The reading involves the interpretation of patterns and shapes formed in the foam on top of a cup of hot Turkish coffee. It's usually performed by Turkish fortune-tellers, who read the grounds in your cup to tell you about your past, present, and future. Looking at the pattern formed on top of your drink, they can predict everything from an upcoming job promotion to whether you will meet your soulmate soon!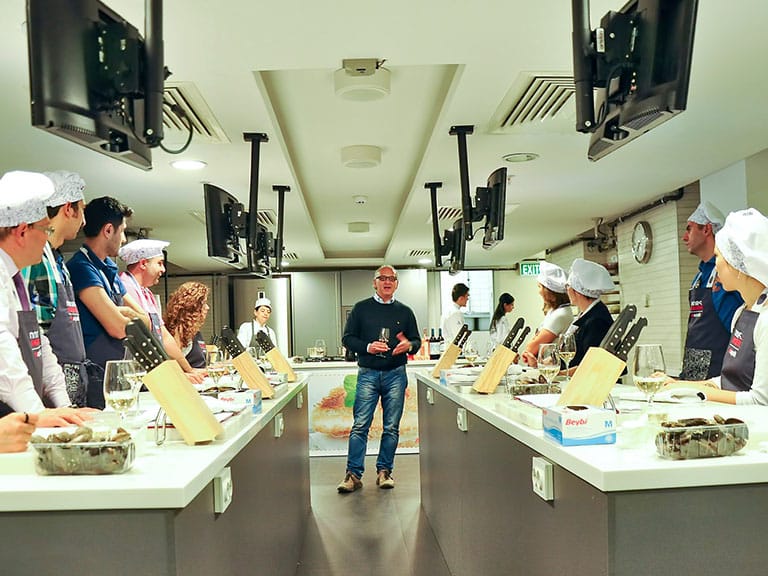 16. Take cooking classes in Istanbul
Cooking classes are a great way to learn about the local culture. There are different cooking classes to choose from, including classes as a small group, private or weekly programs if you want to deep-dive into the delicious Turkish recipes.
17. Explore Cemal Resit Rey (CRR) Concert Hall
If you love music, you should check out Cemal Resit Rey (CRR) Concert Hall, one of the most famous concert halls in Istanbul, and it hosts different kinds of performances. You can see all types of shows here, including ballet, theater, and movies!
The CRR Concert Hall has been open since 1989 and attracts a wide range of performers worldwide. There are two main auditoriums—the main hall with 1,200 seats and an intimate hall with 240 seats—which host everything from classical music concerts to jazz and techno shows. The venue also has its cinema that screens films daily at 20:00; whether it's Hollywood blockbusters or independent films from around the globe (including some Turkish movies), there is something for everyone at CRR!
18. Have some brunch time in Kadikoy
It's a toss-up between Bebek, on the European side, and Kadikoy, on the Asian side. Both are bustling districts with plenty of shops and restaurants to choose from. But if you're looking for something different, we recommend you try Kadikoy.
The neighborhood has various restaurants and cafes, each offering its unique ambiance and style. From fine dining to traditional Turkish cuisine, there's something for everyone!
Contact us for more underrated gems in Istanbul
There are many undiscovered spots to enjoy when visiting Istanbul, such as the Ottoman Bird Palaces, Viking Runes at Hagia Sophia, The Museum of Innocence, the Column of the Goths, and the Golden Horn Chain. In addition, we can take you on a private guided tour of the city to discover the hidden gems.