Turkey has a strong reputation as one of the best tourist destinations in the world. Nonetheless, certain events in the past few years and the subsequent news coverage have raised security concerns among people traveling to Turkey. Moreover, 2020 has been an odd and scary year thanks to the COVID pandemic making rounds and wreaking havoc worldwide.
Therefore, it is understandable that you may have some safety concerns despite visiting the country's magnificent attractions. Not to worry, though; with the proper precautionary steps, visiting Turkey may be the best holiday of your life. Just ask the record 45.1 million tourists who explored Turkey's top and hidden treasures last year.
Here is what you need to do to ensure that your trip to Turkey in 2022 meets the highest safety standards.
Check Recommendations with Your Home Country's Embassy
Before you book your flight, take a moment to check your home-countries embassy recommendations about travel to Turkey! This will provide information about areas that might be a little less safe to travel to.
Currently, the United States travel advisory says to use increased caution when traveling to Turkey and avoid areas near the Syrian and Iraq border. You can sign up for their STEP program while traveling for added security.
The most current advisory from Australia also states to use increased caution and sign up for their SmartTraveler program to receive updates while abroad.
New Zealand recommends avoiding public demonstrations or protests when traveling to Turkey, even if the demonstrations are intended to be peaceful. You can still avoid traveling to areas near the Syrian border if you are not confident. (please see below)
Canada has a ROCA program, where you can register to let Canada know about your travels and make it easier for them to contact you in case of an emergency.
Remember that travel to any country comes with some risks, and you should prepare adequately! See if your country has a program where you can enroll for any alerts from your home country about potential safety issues.
To sum up, these are the classical cities that most programs will advise as to where and where not to travel in Turkey:
Do not travel to areas near the Syrian and Iraqi borders during the times of terrorism.
Reconsider travel to cities in Eastern Turkey such as Batman, Bingol, Diyarbakir, Gaziantep, Hakkari, Hatay, Kilis, Mardin, Sanliurfa, Siirt, Sirnak, Tunceli and Van.
Nevertheless, you can take our word that it is entirely safe for travelers to see most of these cities, especially those in the southeast, such as Gaziantep, Mardin, Sanliurfa, or Mt. Nemrut.
How far is Turkey from Israel?
Turkey is 879 km from Israel, about an hour and a half flight. Turkey is north of Israel, and the two countries do not share a border.
Learn Safety Tips for Tourists
As a tourist, it is crucial to be aware of any safety concerns in the country you are traveling to.
Demonstrations
During your tour of Turkey, you are advised to keep an eye out for public political demonstrations. If you see any of these demonstrations, you should distance yourself from the protest, check in with your embassy, and proceed.
Border Areas
It is not a great idea to travel to cities near the border if there is political unrest. However, Turkey has a ton of amazing sites to see and explore! Some of the safe cities close to the Syrian border that are a bit off the beaten track are Gobeklitepe, Sanliurfa, Mardin, and Gaziantep, located in the southeast.
Purchase a Local Sim Card
It is also essential to practice common-sense travel safety while in Turkey. An excellent way to help you feel more secure in Turkey is by purchasing a local SIM card, which can be done at the airport. This will give you access to the internet if something does go wrong. It will also allow you to call your guide or driver quickly and grant you access to your emails, security programs, and any last-minute news.
Self-exploring Turkey
Traveling by yourself is not as bad as it may seem; it can be a relatively safe experience with the right measures. First of all, don't try to drive yourself around, especially in the big cities. Taxis and public transport are the best options since they help you avoid the nightmare of a town going to a foreign nation.
Also, avoid telling people that you are traveling alone, as this puts you in the crosshairs of scammers. Do not explore by yourself at night; be aware of what is happening around you and try as much as possible to avoid looking lost. Also, try to learn a few Turkish words and phrases; this will come in handy if you get lost.
Taxis
Taxis are one of the safest ways to get around, but they won't go easy on your wallet if given the opportunity. Therefore, try to estimate the usual cab fare before your trip and stick to yellow cabs. Avoid unlicensed taxis, or you will be overcharged.
Also, use map services on your phone to ensure that the taxi driver is not taking detours to rack up the meter.
Rental Cars
If you are insistent on driving and decide to explore Turkey using a rental car, make sure that everything is as it should be; understand the contract, and do not accept if insurance is not included. Also, watch out for the prices since dealers will try to overcharge you and avoid driving at night for your safety.
Pickpockets
If you are in a large city like Istanbul, it is vital to take extra precautions against pickpockets. While pickpocket teams were jailed many years ago, please don't take our word for it and still be cautious as in any other large city. Keep your cash in multiple locations on your person, like your purse, jacket, and pants pocket, to minimize the damage if you are pickpocketed!
Be aware of where your personal belongings are, and consider keeping your essential documents in a safe at your hotel if you are concerned about this.
Food and Drink
Turkish food is quite delicious, and once in a while, you will come across streets lined with vendors selling local delicacies. However, despite the overwhelmingly sweet aroma from every direction, you need to be careful about what you eat and where to avoid getting sick. Therefore, stick to the popular and busy places even if it means waiting in line.
If you go for the Mediterranean or an Aegean tour of Turkey, you will love the seafood. Nonetheless, avoid undercooked and stale seafood if you don't want to get sick. If you are wondering how to do this, it is relatively easy; just read the restaurant's reviews rather than physically visiting the kitchen and watching the preparation process.
In the big cities, avoid drinking tap water but rather stick to bottled water.
Fun and Nightlife
Some cities like Istanbul and Bodrum have a vibrant nightlife that will win the heart of any party lover. Nonetheless, do not drink too much alcohol during a night out if traveling alone. Also, avoid drugs at all costs; don't accept them even when it is for free.
Book with a Reputable Tour Company
When planning your trip to Turkey, the first step to consider is booking with a tour company! There are multiple benefits to booking with an established tour company, including:
It Makes Planning Easier
Planning a vacation to a foreign country can be a mind-boggling process. It involves finding lodging, booking your flight, packing, arranging transportation, and working on an itinerary, which takes hours. The best way to take this weight off your shoulders is by leaving the itinerary and transportation (sometimes even lodging) to a reputable tour company.
Booking with a tour company will ensure that you don't miss any must-see attractions on your trip! You will also learn way more by hearing about the country from a local's perspective than if you had just ventured out.
Travel Confidently with a Tour Guide and Save Money
Tour guides will know what safety measures to look out for, and their local expertise will help ensure your safety. In addition, they will be keeping an eye out so that you can sit back and enjoy the marvelous sights of Turkey.
Some people get sticker shock when looking at the cost of a tour, but it often will save you money in the long run! Tour guides will also recommend the food, provide transportation, and ensure that you are not being scammed on entry-ticket prices to different sights and museums. Having one price in mind and budgeting for this expense is way easier than trying to save a thousand small transactions.
Perhaps most importantly, booking with a reputable tour company will give you the confidence to explore beyond the typical tourist attractions! You will explore beyond Istanbul (although we recommend starting there) to see cities like Cappadocia, Ephesus, and Bodrum!
A private tour will give you peace of mind and maximize your experience!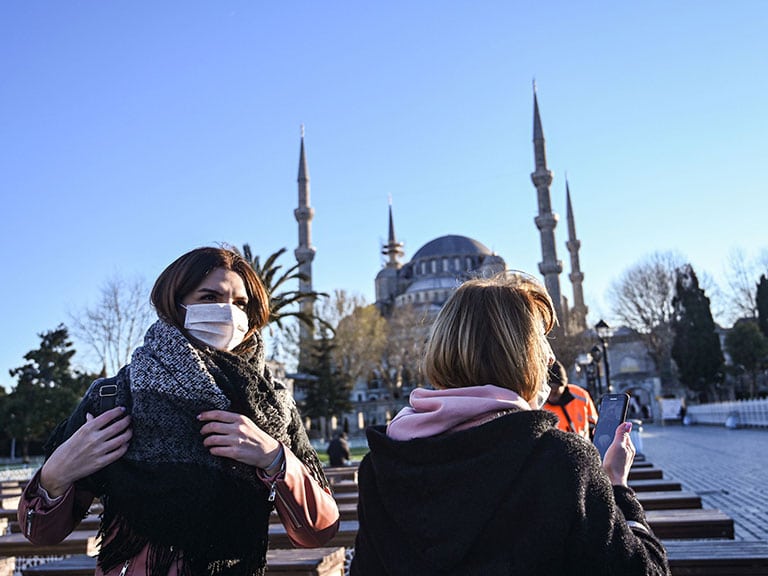 COVID-19 Safety Precautions
Today, the most significant safety concern when traveling to any country is the COVID pandemic. The virus has left a trail of destruction, and the last thing you want to do is put yourself and your loved ones in its path. Nonetheless, Turkey has precautions to protect travelers and citizens from contracting the COVID-19 virus.
An important thing to remember is that Turkey has many provinces, and each province may have different measures in place. Therefore, familiarize yourself with the latest updates on the particular region you want to visit. Also, keep up to date with the current situation as you are there.
Check this complete guide for a safe trip to Turkey during the pandemic for more information.
Quit Wondering and Start Exploring!
Traveling outside of your home country should always research to ensure that you can have a fantastic vacation while also staying safe. Start by staying up to date with safety updates from your home country's embassy. You should also enroll in any notification program available so that your embassy can contact you directly if anything goes amiss while you are on your trip abroad.
Research safety trips for tourists, such as sharing your ride when you are in an Uber, utilizing the hotel safe for your relevant documents, and avoiding pickpockets.
The best tip is to book with a reputable tour company to ensure that you have an incredible trip abroad! Be sure to contact us if you have any questions about traveling to Turkey.