When talking about Turkey's best idyllic experiences, it is a crime, not to mention its many alluring lakes. The cold waters surrounded by virgin lands make for some of the best chill-out spots in the country. If you want a lakeside picnic right at the heart of nature, you should definitely visit one of these.
Those needing some hiking, camping, or just some good old swimming while enjoying fresh unpolluted air will also love these lakes. Nonetheless, the country has a lot of these inland treasures, about 50 of them. Therefore, it isn't easy to choose the best one for you. Not to worry, though; here are ten lovely lakes that will charm you and your group.
1. Lake Van
The lake, which sits in Eastern Anatolia, is Turkey's largest. Surrounded by volcanic peaks and plateaus, Lake Van will dazzle you with its breathtaking sceneries. It is a saline lake that does not freeze during winter, making it a popular spot for some water fun all year round. Visitors enjoy many water sports like sailing and inshore powerboat racing. Swimming is also a refreshing experience but should be avoided during winter.
2. Lake Salda
First glance at this impressive lake, and you will feel like you ended up at the Maldives; the lake has blueish green waters surrounded by white dunes. Listed as the third deepest lake in Turkey, the turquoise color of Lake Salda is just half of what brings tourists here. The other half is the isolated feel of this breathtaking lake; it is virtually untouched by human life.
There are no restaurants or cafes, and scattered around the area are a few picnic benches. This makes the lake one of Turkey's best spots for going offline, where visitors carry their stuff and bask in the exquisite beauty of this location. The cool waters of the lake are some of the best to dive in and are also rumored to have healing properties.
Please note that camping was banned here in 2019.
3. Lake Beysehir
This lake is another gem famous for two things; the birds that have made it their home and the views that the sunset creates. The lake is a bird watchers paradise with 33 islands that are each inhabited by different bird species. The Seljuk Empire once occupied 21 of the 33 islands, making them worth visiting for a bit of history.
The bright red sunsets of the lake shaded by flying birds have attracted many visitors and captured many hearts. The lake has abundant natural beauty and is surrounded by Beysehir National Park to protect the wildlife. With 100% natural beaches and multiple restaurants, cafes, and picnic benches, Beysehir is a lake paradise worth a day's visit.
4. Lake Eber
Lake Eber is another beautiful lake with stunning views and a haven for birds. With its numerous little islets formed by floating reeds, the lake looks like a meadow from afar. Since it has created a thriving natural habitat for birds, the lake was declared a bird sanctuary in 1989 by Birdlife International.
It is, therefore, an excellent place to relax and watch the fauna. Canoeing around the lake is a delightful way to explore its unique islands while taking in the rich wildlife. Some of the lake's islets are large enough for people to stay overnight and float across the lake during their sleep.
5. Lake Egirdir
A paradise perfect for fishing and camping is the best way to describe Lake Egirdir. This sizable fresh-water lake features trout, carp, and fresh-water bass that visitors enjoy fishing. Don't worry, if your fishing can't be described as effective, you can always watch the fishermen at work and buy from them if you want a taste. There are also restaurants nearby that cook mouth-watering bass, which you should try out during your visit.
The lake still has lovely beaches, but the history here is also a major attraction. You can visit ancient ruins in Nis Island, a 4th century BCE castle, and the Ayastefanos Church for Byzantine times. There are also shops selling rose oriented beauty products in the area.
6. Lake Bafa
For those who love bird watching, this is another one of those lakes where you want to pitch a tent all week and spend the whole of it with binoculars to your eyes. The lake is home to hundreds of thousands of birds who love the secure ecological habitat offered during winter.
Some of the bird species you are sure to spot during your visit to the lake are the pelican, sea eagle, and dwarf cormorant. The lake's surrounding area is covered by trees, including olive groves, pine trees, and tamarisks, making this an unspoiled haven. For those who do not like camping, there are villas and apartments near the lake that one can rent.
7. Lake Tuz (Salt Lake)
This lake is the second-largest saltwater lake in Turkey. The lake has such high salt content that it is the source of 60% of Turkey's consumable salt. It is this salinity that makes Lake Tuz a popular lake, not so much for the salt but the bird species that it attracts. Visitors are treated to the sight of several species of birds, including the elegant pink flamingos. The extraordinary lake also has a mountainous background, making for a stunning view for Instagrammers, some of whom travel to capture the moment and tick it off the bucket list.
8. Lake Sapanca
This beautiful lake sits near Istanbul and makes for a great escape from the hectic city life. It is a classic family holiday spot with a calm natural environment suitable for gorgeous picnics. Apart from picnics, the lake offers its visitors various fun activities like skiing, canoeing, kayaking, and fishing. There are accommodation facilities, including luxury spa resorts, although camping by the lake is an experience.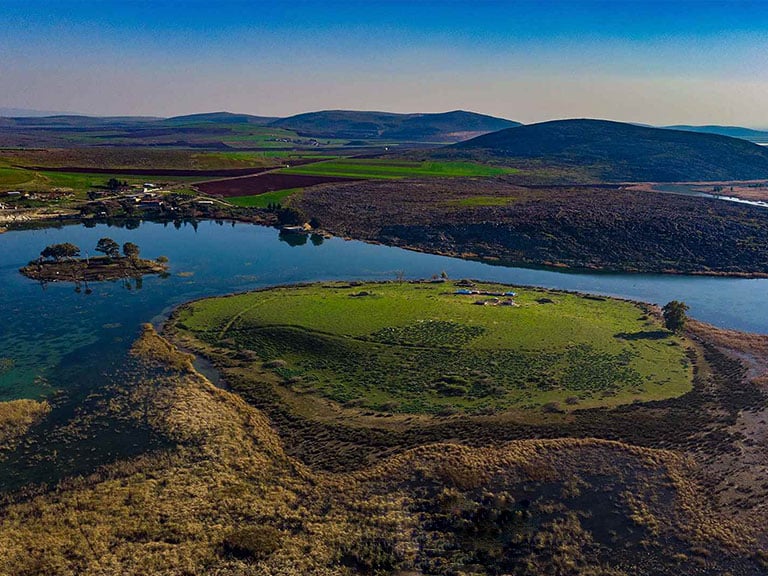 9. Golbasi Lake
Sitting in Hatay, this is another holiday spot for birdwatchers and visitors that fancy their angling skills. This beautiful lake is home to about 193 bird species, including some endangered ones, making it a wildlife resort. Visitors can relax by the lake, watch the numerous birds of the lake, or try fishing the clean, clear waters on wooden boats. It is rich in natural plant life that makes the air here clean and fresh.
10. Lake Abant
Last but not least is a lake with some pretty amazing attractions. This tranquil fresh-water lake in Bolu province will completely submerge you in nature. The popular weekend destination is surrounded by a dense forest of hazels, oaks, pine, European black pine, and hornbeams. From enjoying the peaceful aura imposed by these trees to catching glimpses of cute animals like deer, rabbits, red foxes, and brown bears, the lake treats visitors with an authentic nature experience when hiking.
There are also horses available for a quick ride along the lakeside, with or without a guide. You can therefore tour this flora and fauna paradise on horseback. The lake is home to unique species of trout here, making the lake an excellent fishing spot. The lake freezes over during winter, which makes it a perfect spot for ice skating.
Discover These Best Lakes in Turkey
These ten lakes are excellent choices to include at least one in your bucket list if you are up for a breathtaking tour of Turkey. So, pack your bags, buy some camping gear once you arrived, and head out to any one of these inland treasures. Ooh, don't forget your picnic baskets.