It has been over two years since Covid first hit the news, and countries scrambled to contain its disastrous impact. These measures included both international and domestic travel restrictions, total travel bans, curfews, and in some cases, complete lockdown.
Today, things have gotten significantly better, giving the world a much-needed breather. Borders have opened up, travel bans lifted, and the tourism and hotel industry is steadily recovering. This means that you can finally travel to Turkey and enjoy all the treasures that this magical land has to offer.
Still, it helps to appreciate that Covid is a present danger in our daily lives, no matter where you're from. Discoveries of new variants, like the Delta and only recently, the Omicron Covid-19 virus, mean that governments have had to remain cautious and vigilant. Thus, safety measures and certain restrictions remain.
This article will explore everything you need to know about the state of Covid-19 in Turkey. In addition, we will look at the restrictions, entry requirements, and other valuable tips that should come in handy during your tour of the beautiful land.
How bad is Turkey's Coronavirus?
On May 31, 2022, Turkey recorded 975 new cases, bringing the total number of documented Covid-19 cases to 15,072,747. In total, there have been 98,965 confirmed deaths as a result of the virus. All these are stated by data reported to the World Health Organization (WHO) by the Turkish Ministry of Health. For updated information, check out this page.
In the past one week, Turkey's covid cases per 100,000 people stand at 5 infections. For in-depth and updated information on Covid-19 in Turkey, check out the official Turkish Ministry of Health website.
What does the CDC have to say about this?
For travelers from the United States, the CDC puts Turkey at a level 3. This means that the Covid-19 risk is high and generally advises American citizens it is ok to travel to Turkey. However, those who must travel for whatever reason should ensure that they are fully vaccinated before travel.
So, can US citizens travel to Turkey?
Despite the numbers and the CDC risk assessment, it's relatively safe to travel to Turkey. There are measures in place to ensure the safety of tourists and citizens within our borders. Thus, we welcome all international tourists to explore our rich heritage and historical attractions as long as they fulfill Turkish immigration rules.
Travel Restrictions Have Been Cancelled
On June 1, 2022, Turkish authorities released a circular regarding entry into the country, and all travel restrictions have been lifted now. So, there is no requirement for a vaccination certificate and/or PCR or antigen tests.
Suspended Flights
None.
Restrictions by Country
None.
Do I need to take a Covid 19 test before traveling to Turkey?
No.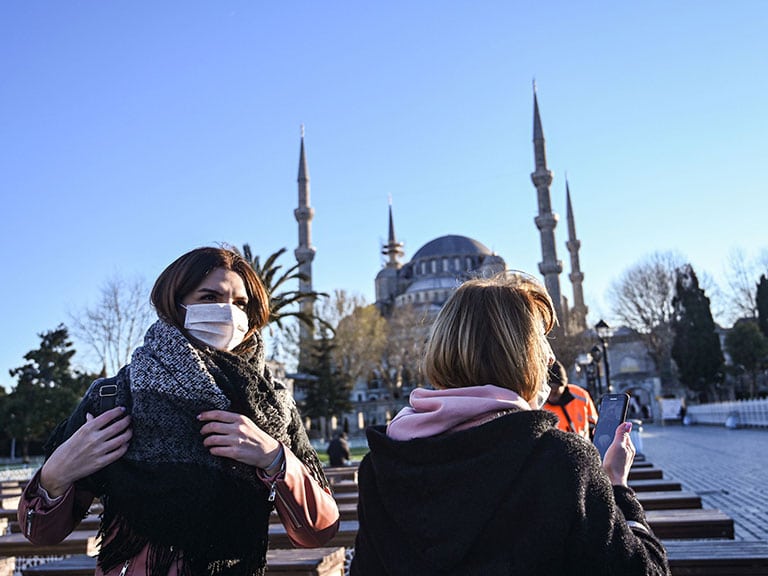 Vaccination Requirements for Turkey
None.
Can I travel to Turkey without a covid vaccine?
Yes.
What covid vaccine is Turkey using, and can I get one?
The three vaccines approved for use in Turkey are Sinovac, Sputnik V, and Pfizer (BioNTech). These can be obtained by arranging a vaccination appointment through the Turkish health system's e-devlet and e-nabiz platforms and typically require one to have a Turkish ID card alongside the appointment number.
As a result, it's near impossible for foreign tourists to book and get a vaccination appointment while in Turkey. But if you must receive a covid vaccine during your stay in the country, you're advised to contact the health ministry.
Generally, though, it's best to get all your vaccination done in your home country. These include the Covid-19 vaccines and other necessary vaccines, like the measles-mumps-rubella (MMR), diphtheria-tetanus-pertussis, chickenpox (varicella), polio, and measles.
Other vaccinations that are not mandatory but highly recommended by the Republic of Turkey Ministry of Health include Hepatitis A, Hepatitis B, Typhoid, and Rabies. This is because while the respective infections are not a big issue in Turkey, there is a slight risk that you may contact any one of them during your stay.
The State of Vaccinations in Turkey
A vaccination immunizes an individual against a disease, making them less susceptible to contracting and spreading it. This means that it's generally safer to travel to a place with a high vaccination rate, even if you haven't been vaccinated yourself.
In that regard, Turkey has administered about 147 million doses of Covid-19 vaccines to its citizens so far. As a result, approximately 53.3 million Turks (85%) have received at least two doses of the vaccine. In addition, around 52.9 million are fully vaccinated, meaning that 85.25% of the population has been fully immunized against Covid-19.
Is the Turkish tourism industry vaccinated?
Members of the tourism sector in Turkey were among the first to get vaccinated when the Turkish Government began administering doses. These included tourist guides, restaurants, hotel employees, and tour and travel companies personnel. In total, over one million stakeholders in the industry were targeted in the inoculation program.
So, pretty much everyone you meet during your tour will be fully vaccinated.
Book your Private Tour Today
Things are quite normal at this moment and traveling to Turkey today is safer than it was anytime in the past. This means that, with the right travel companion, you can enjoy the cultural, architectural, and natural treasures that the beautiful country has to offer. Made in Turkey Tours is that companion.
We care about Covid-19 restrictions and strive to ensure that our travelers enjoy their Turkish experience with minimum risk. Book with us today.