Istanbul is a crossroads of world cultures—dating from prehistoric times. Straddling the Sea of Marmara and the Black Sea, Istanbul watches over the Bosporus Strait, a vital passage separating Europe and Asia.
The best photography spots in Istanbul range from historic places of worship to breathtaking skylines to the brightly colored settings of daily life in this magnificent and colossal Turkish city.
Follow us on a photographic journey through the city. We'll link to some gorgeous Istanbul photos as we proceed.
Here are the Best Photography Spots in Istanbul
Our Istanbul tour begins in the Old City (Constantinople). This is where the most photographed buildings and sites are located. Later in the day, we will see some very worthwhile places in Beyoglu, an Istanbul section across the Golden Horn.
We've tried to provide you with links to Istanbul pictures that show the city at its best. Our virtual tour begins with a taste of everyday life on a grand scale: Istanbul's world-renowned Grand Bazaar, a place that will genuinely consume you as you consume what is sold there.
1. The Grand Bazaar
The Grand Bazaar is a massive, labyrinthine structure filled with booths offering goods from everywhere—and Turkey especially. The stalls where we linger the longest tend to be those that sell cashmere scarfs, jewelry, and many other things.
Most sellers don't mind if you snap a few photos of their intricately arranged booths. Some might strike up a conversation, and if you've never haggled before, you're sure to catch on quickly.
Take home some unique and beautiful souvenirs to accompany your photos of the Bazaar and remind you of your experience chatting with the vendors.
2. Spice Market
Not far from the Grand Bazaar, you'll see the Istanbul Spice Market, where there is much more than just spices (though there are many of them). If your camera has a macro or zoom lens, get ready to capture some fascinating details!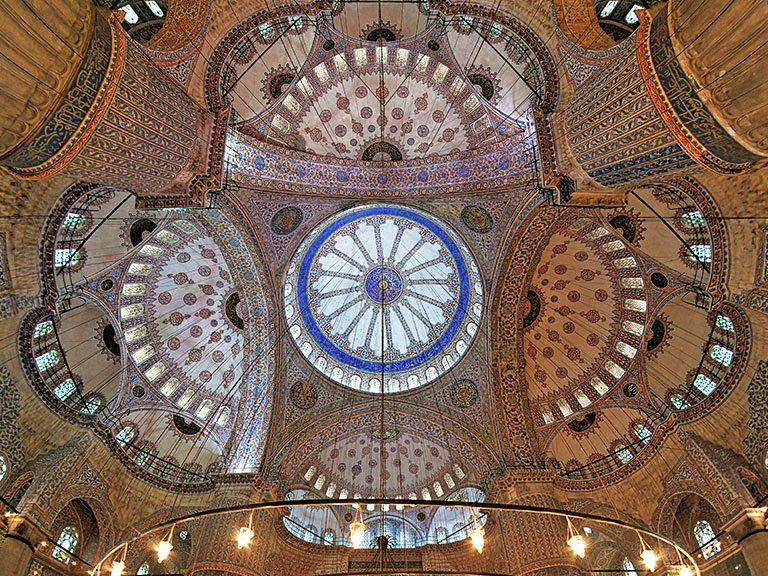 3. The Blue Mosque
The Blue Mosque (also known as the Sultan Ahmed Mosque) is a great photo spot that no tourist wants to overlook. The view is stunning from any angle, including inside, where you might see Muslims praying.
Try to get some early evening shots of this building, when its light-colored minarets are set against the darkening sky and other parts of the city still visible as a scenic backdrop.
4. Hagia Sophia
One block away from the Blue Mosque is the equally memorable Hagia Sophia. This stunningly beautiful edifice embodies Turkey's religious past. It was built in 537 CE as the Eastern Orthodox cathedral for the capital, then called Constantinople.
The Hagia Sophia subsequently served Roman Catholics, later Muslims, and was a secular museum during most of the 20th century. Today, it is a mosque again—and the city's top tourist destination.
Capture these buildings' magnificent exteriors from various angles. Also, come back later for some early evening shots when their light-colored minarets and domes offset the darkening sky, and other parts of the city still provide a backdrop.
5. Pierre Loti
Our next stop is Pierre Loti Tepesi, where we'll enjoy lunch at outdoor tables in a charming café on a famous hilltop. This location overlooks the perfect views of the Golden Horn and much of the city.
Take your time—there's a lot to see from up here!
6. Topkapi Palace Museum
Throughout the 15th and 16th centuries, these buildings were the principal residence and administrative headquarters for the Ottoman sultans. The lavish interiors and treasures they house can keep visitors enthralled for hours.
Step outside, though, and take in the expansive views of courtyards and the water below. Meander around the capacious structures and pathways connecting them to capture the extraordinary architecture.
There is much to see here, both inside and out, and you'll have your camera out and poised to shoot the entire time!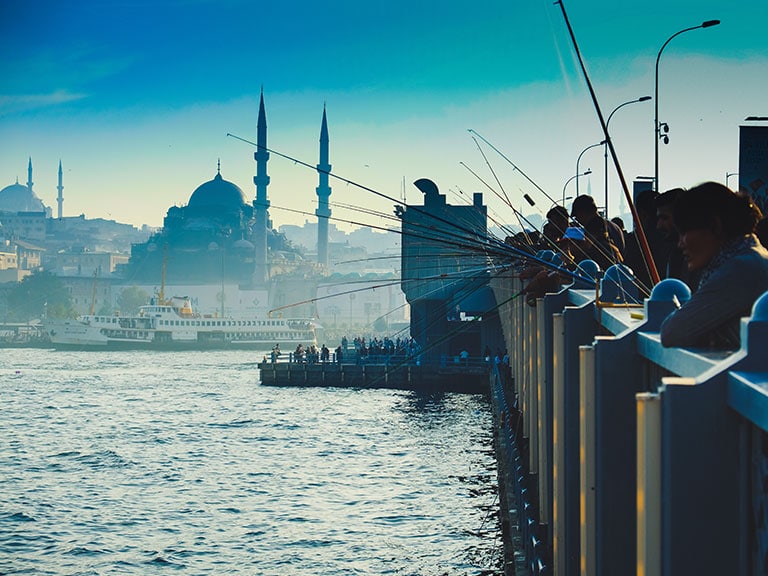 7. Galata Bridge
This bridge, where pedestrians and cyclists share a broad walkway separated from motor traffic, connects the Old City with Beyoglu, the part of Istanbul across the Golden Horn from the Old City.
If you want a snack, the bridge has many restaurants on its lower deck. However, the upper deck is the ideal spot to capture ground-level images of the city in all directions—both in broad daylight and lit up for the night.
8. The New Arter Museum
Arter is Istanbul's new home for its permanent collection of contemporary art. Just looking at this astonishing architectural masterpiece will make any photographer fall to their knees.
This Beyoglu building, designed by London-based firm Grimshaw Architects, is covered with rectangular planes of glass-fiber. One expert observer said that it "changes constantly depending on the viewer's position, creating a multi-layered, integrated, and interdisciplinary public space."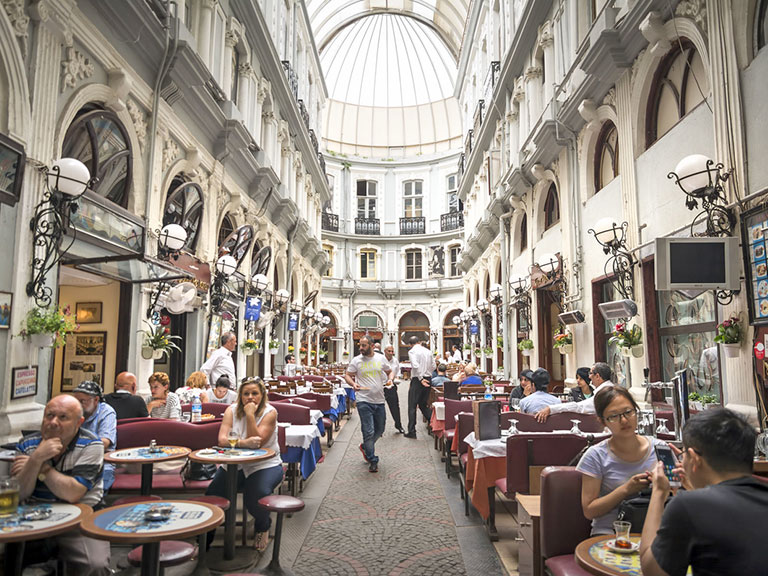 9. Cicek Pasaji (Flower Passage)
The scenic Cicek Pasaji neighborhood is in Beyoglu. The area features a high-end indoor and outdoor marketplace filled with cafés, restaurants, taverns, shops, food markets, and (not surprisingly) flower vendors.
This area is very close to the Istanbul Museum of Modern Art (Istanbul Modern Sanat Muzesi). There is no shortage of excellent photo ops in either of these very hip places.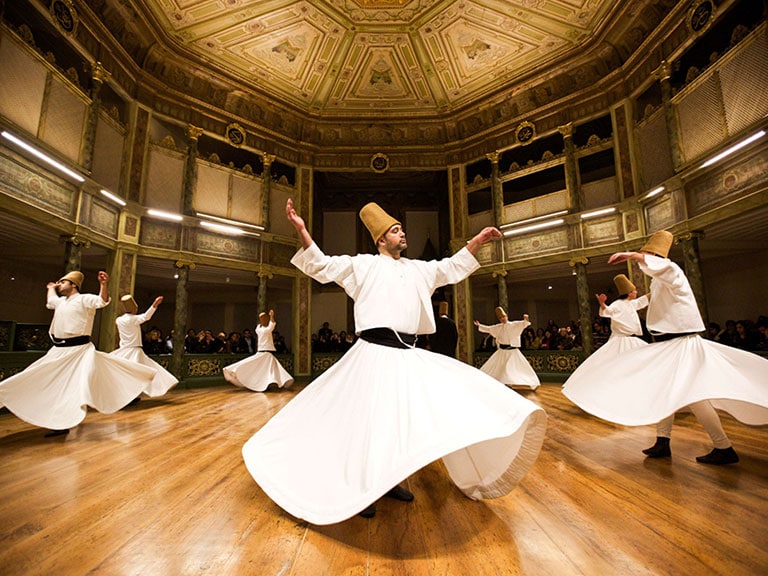 10. Galata Mevlevi Lodge
Above all, this museum hosts performances by the well-known Whirling Dervishes, performers who see their spinning dance as a form of meditation. While in the museum, take in the Mevlevi artifacts housed there.
The Mevlevi Order (Mawlawiyya) is a Sufi order started in Konya by the followers of Jalaluddin Muhammad Balkhi Rumi, a 13th-century Persian poet, Sufi mystic, and Islamic theologian.
11. Balat
For the early evening, we make our way back to the Old City and the colorful, trendy, and multiethnic neighborhood of Balat. Who hasn't seen pictures of Balat's brightly colored row houses? Now, it's time to snap some of your own to show everyone!
While we're here, let's stop by one of the unique restaurants or cafés for a quick bite before heading out to see what else can be found in this delightful area. Wait! What's that you're eating? Oh, my gosh! Click, click!… Posted!
Book Your Photography Tour
"Cabuk don," meaning come back soon! There are always more photo opportunities in Istanbul to hunt for, and the more you take in and learn the culture, the more you will want to keep visiting.
But don't overlook other parts of our vast country, either. There are more opportunities for touring Turkey (and enjoying Turkey photography) than you can imagine.
Made in Turkey Tours is your go-to professionals for seeing our remarkable country. And we have the expert guides to keep you engaged and informed wherever you choose to go.
Reach out to us today and tell us where in Turkey you would like to visit!