Turkey has around 7,000 km of coastline, making it one of the best beach destinations on the continent. Each beach has something unique that keeps visitors coming back year after year. One thing all of them have, however, is beautiful sights.
During your visit, you could stand where Cleopatra supposedly once stood, or maybe even see a few turtles. With so many to choose from, which of the beaches in Turkey are the most beautiful?
Keep reading to learn more about some of the beaches that you should visit during your trip.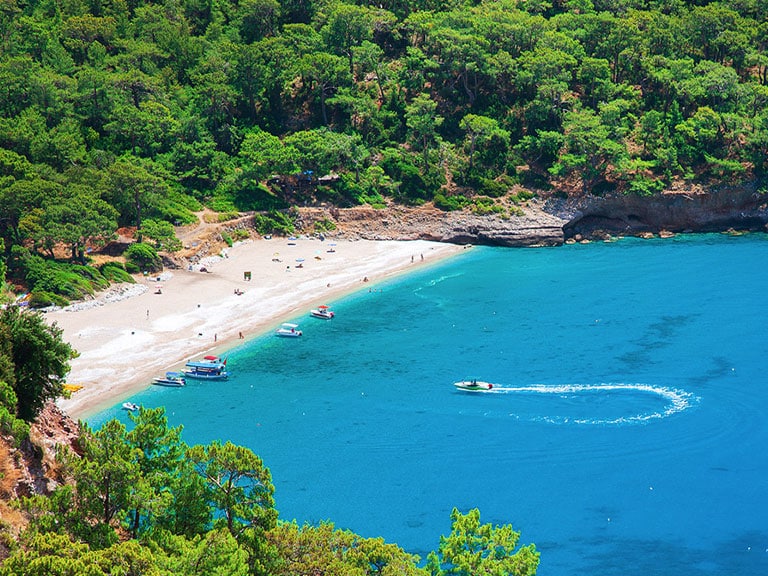 1. Kabak Beach
The Kabak beach is the very picture of calm. Here you can sit on the shore with your eyes closed and forget about the world around you. Once the night falls, all you'll be able to hear are the chirping of crickets and the gentle crashing of the waves.
If you go on a hiking tour, don't forget to bring your camera. There are a lot of great photo opportunities.
2. Oludeniz
Many beaches claim to have blue waters, but Oludeniz does. Due to the sparkling turquoise waters, Oludeniz became known as Turkey's Blue Lagoon.
People come from all over even only to sit in a chair and look out at the water while soaking up the warm sun. It's one of the most relaxing experiences you could ever have.
3. Kaputas Beach
The view at Kaputas beach is stunning. There are light-colored sand and bright blue waters as far as the eye can see. If you want to sit and admire the sea for a while, there are parasols around that are free for beachgoers to use.
The waters stay beautiful and calm, making Kaputas beach an ideal spot for swimming. From April to November, there are lifeguards around so you can let your children swim without worry.
4. Cleopatra's Beach
It's said that long ago, Cleopatra herself was drawn to the beach due to its golden sand and azure waters that she swam in. This tale is where the spot gets its name.
Cleopatra isn't the only one who had enjoyed this beach. It attracts over a million tourists every year. It's perhaps the best place around for sunbathing.
It's a well-traveled beach, but you wouldn't know it due to its well-maintained beach. If you take a tour during the off-season, it's surprisingly relaxed and secluded.
5. Konyaalti Beach
The Konyaalti beach is a bit different than some of the others on this list. It consists of white and gray pebbles rather than sand. They only add to the overall scenic charm of the beach.
There's a breathtaking view in every direction. If you're looking northeast, you'll see the gorgeous cliffs. If you look southwest, there's a lovely mountainous background.
Once you're done taking in the sights with your tour group, there are a million things that you can do on the beach. Some tour companies include paragliding in their packages, for example.
6. Patara Beach
Patara is the longest beach in Turkey. It's also the most unspoiled beach around the Mediterranean for a few reasons. First, the ruins of the ancient city of Patara are located here. Second, the protected species, the Loggerhead turtle, makes the area its home.
When you head southeast part of the beach during your tour, you'll see limestone peaks in the distance. These peaks, coupled with the rolling dunes, make this beach a sight to behold.
What attracts many families is that Patara beach is never too crowded. For the most part, you and your group will be alone with the turquoise waters and chirping birds. There's the occasional frog also.
7. Cirali Beach
Cirali beach is another location that has stayed unspoiled for the most part. During the off-season, Cirali stays uncrowded. The high season is a different story, but even then, you'll only see crowds if you schedule your tour during a weekend.
The grassy mountains make for a unique and scenic background for romantic honeymoons. You may see a few turtles during your visit as well.
8. Iztuzu Beach
Patara beach isn't the only one that's famous for sea turtles. You'll also see plenty of them when you're touring through Izutzu beach because it acts as a conservation ground for them.
One of the best ways to experience the beach is on a cruise. You'll get a full look at the beauty of the Mediterranean, and you'll see all the beautiful villages that hug the coastline.
9. Icmeler Beach
Icmeler beach is one of the most popular and well-known beaches in Turkey. Don't let the ideas of crowds scare you.
You don't want to skip out on touring through this gorgeous beach. It's got everything you could ever need from picturesque villages to delicious food.
10. Ovabuku Beach
Not only is Ovabuku beach beautiful, but it's one of the best places to go for food lovers. There are plenty of restaurants around that offer the very best in Mediterranean cuisine.
Food isn't the only thing the beach offers. When you take a tour around the place, you'll be able to relax and escape the chaos of your normal life.
Discover the Most Beautiful Beaches in Turkey for Yourself
When you visit Turkey, you'll see amazing architecture, witness the rich culture, and venture onto scenic beaches. Use this guide so you can plan your itinerary around the most beautiful beaches in Turkey and see everything this amazing country has to offer.
The beaches aren't the only famous part of Turkey. If you're interested in seeing more, contact us to ask about our tours, hotels, activities, and more.