Whether you are traveling with little kids or young teens, Turkey has numerous things to do and places to visit for those seeking a perfect family vacation. There are tons of activities to choose from, so once you seal the dates for the perfect family trip, it is time to plan the little details to spice it all up. Home to crystal clear coastlines, amazing cities to discover, trails, camping, and many other things, Turkey has it all to strengthen family bonds.
We all have been there; we all know it is a great challenge to travel with toddlers, especially when they are 2-3 years old. So, a 2 hours tour of a historical site would not get their attention and would not allow parents to enjoy it the most. But, if you mix-match things that everyone in the group enjoys, it would make all the difference. Without bragging about how we do this, here we have listed fifteen awesome things to see and do with kids in this thrilling country.
1. First Stop: Istanbul, The Capital of All Times
Well-connected with numerous countries, Istanbul is easy to get and has tons of things to do for families. The city population is around 20 million, and toddlers make up %10 of it while the total number of children is almost 4 million. So, you see where I am trying to get with these numbers; Istanbul is a heaven for kids! Since there are too many things to do in this destination alone, here we have made a separate list for some of the best options:
Rahmi Koc Museum
Founded by Rahmi Koc in 1994, one of the richest and highly respected families in the country, the museum is dedicated to the history of transport, industry, and communications. The industrial museum is more of a "boys" featuring a remarkable collection of trains, cars, boats, buses, planes, engines, and even a WWII-era submarine you can visit paying an extra charge. It also has a workshop for children if you would like to follow the event calendar and signup for one.
Bosphorus Cruise
Almost any kid loves to be o a boat, and if it is Istanbul, it makes it a double-bonus! A nice cozy ride along with the historical landmarks and waterside villas on a private motor-yacht, soft drink, tea-coffee, and fruit plate or cookie service, and if the sea traffic is quiet, your kids can be the captain for a couple of minutes (they love it). Don't forget to buy some Turkish bagels (simit) as you will need a lot for the seagulls following your ride.
Here this package includes a private ride on Bosphorus.
Legoland Theme Park
Among 26 other locations worldwide, Istanbul Theme Park has more than 5 million pieces of bricks. Besides build & learn activities, Legoland offers a beautiful Istanbul-themed mini-park, 4-D cinema, kingdom quest, creative workshops, factory tour, and many other fun things. It is best to get there earlier by booking an online ticket as it might get pretty packed, especially during the weekends and public holidays.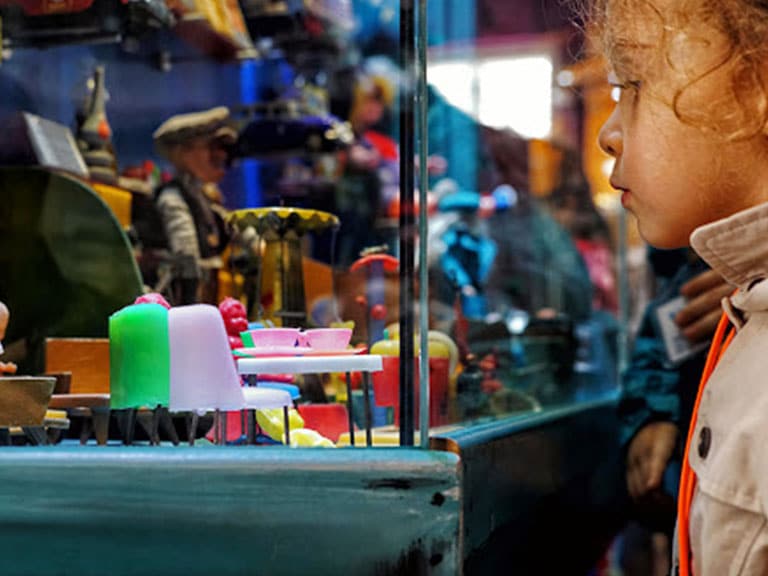 Istanbul Toy Museum
Founded by the Turkish poet Mr. Sunay Akin in 2005, the museum has an exceptional collection of 4000 pieces. It is a perfect call for children at any age between 6 and 18 and parents reading the history of different cultures starting from the 1860s. This museum is on the Asian side of Istanbul and makes a perfect en-route visit if you are planning to tour the Asian side or if you are on your way to catch a late afternoon flight from Sabiha Gokcen (SAW) Airport.
Hands-on Cooking
No doubt you have already heard about the legendary Turkish Food that you will be enjoying in each city. Thanks to its population, Istanbul has everything and offers different types of cooking classes. If you are traveling with preschoolers, choosing your fish from the market and let them enjoy seeing how it is cooked would be an alternative. If you are touring with young teens or teenagers, even better, you might want to include a food tour as well that will encourage them to become more open-minded eaters.
Princes' Islands
If you have plenty of time or a leisure day that you are not sure how to benefit it, Prince's Islands might be one good alternative where you can also escape from the hustle and bustle of Istanbul. Taking a 90 minutes ferry ride to Buyukada, you can enjoy strolling around the island (approx. 4 km route), hiring bicycles or tandems (which is pretty fun for kids), and stay at a nice hotel with an outdoor pool for the day. The next morning after breakfast, you can walk down to the ferry dock and enjoy the ride back to the city center.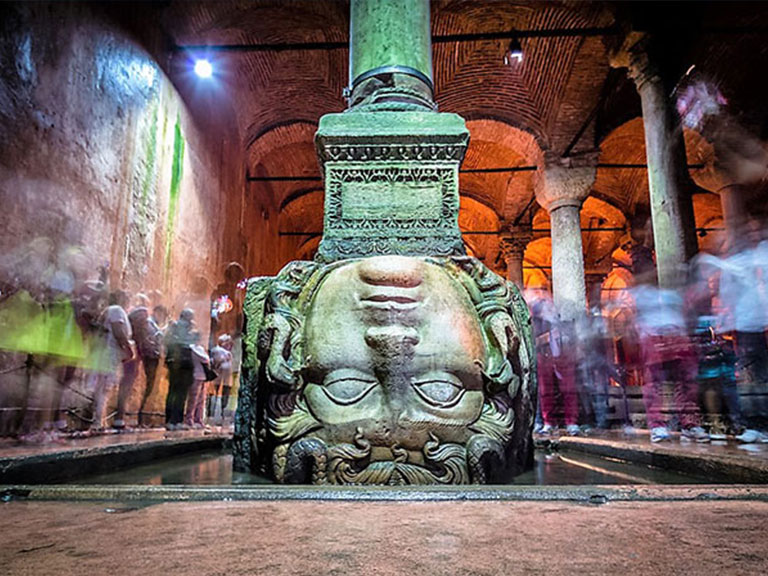 Basilica Cistern
Among some other underground cisterns of Istanbul, this one has the Medusa heads on the columns and might attract your teenagers if they are especially into Mythology. Brief them, you are on your way for an adventure going underground to see a sea of columns inside one of the oldest cisterns.
Galata Tower
If not on the second day of Istanbul, you may want to include Galata Tower on your bucket list of the family vacation. The tower is 60 meters in height and will offer you stunning views of Istanbul's skyline. Take some photos while enjoying the story of the legendary 17th-century Ottoman aviator Hezarfen Ahmed Celebi who flew from the very top of the Galata Tower and landed Uskudar on the Asian side of Istanbul.
Miniaturk
As the name entails, Miniaturk is an open-air museum of Turkey's significant highlights and historical sites, consisting of 135 models at 1:25 scale of the original monuments and places. It will make them feel like Disney's The BFG walking through the monuments and strengthening your architectural knowledge of the different civilizations. Some of these features are monuments, obelisks, castles, tombs, bridges, synagogues, churches, caravanserais, mosques, palaces, mansions, and many more.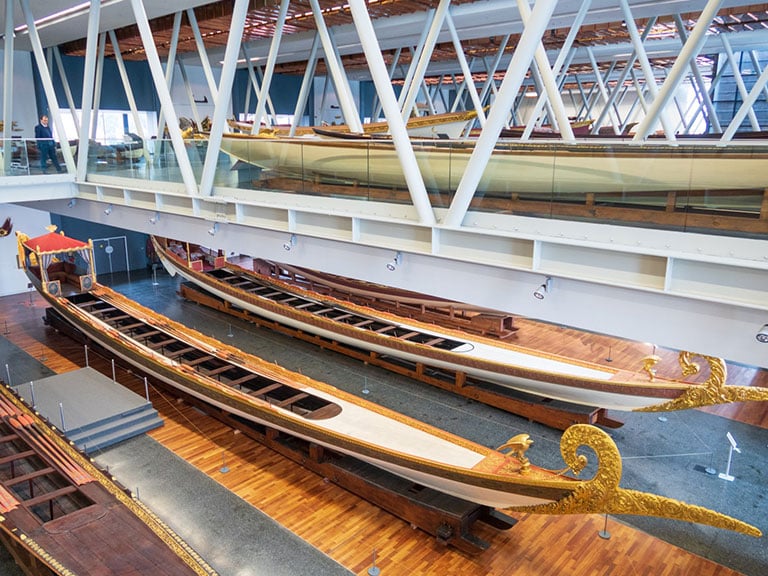 Istanbul Naval (Maritime) Museum
Home to over 20,000 pieces, the Istanbul Maritime Museum is the biggest naval museum in Turkey, listed among the world's most leading ones. It has a rich collection of navigation devices, ship accessories, seals, ornaments, coins, scrolls, pennants, lanterns, amphoras, clocks, costumes, stamps, and inscriptions, and many more.
Istanbul Aquarium
Children usually love animals, and nothing inspires them more than getting close and connected with nature. Home to approx. 1500 species of 17,000 land & sea creatures of over 1500 species, Istanbul Aquarium will amaze you for how it is designed regarding the theme it offers from the Black Sea to the Pacifics. You might need a full day of visit for this biggest thematic aquarium in the world. The innovative technology used in each section will keep your kids interested while they will love the rain forest, interactive games, movies, and other visual graphics.
Vialand (Isfanbul) Theme Park
If you have young children and have a free day that you don't know how to fulfill, this might be an alternative for half of that day while there are attractions for smaller kids due to size limitations (mostly 120 cm height). Most fairly monotonous, the theme park is still among the top list of families who are looking for a big shopping mall and something fun for the kids at the same time.
Nostalgic Red Tram
The carriage is not only fun for honeymooners or those visiting during new years eve, but it is also pretty fun for kids while it runs along the famous Istiklal Street of Taksim. If you have a plan to stroll around this neighborhood, your kids might enjoy a one-way ride traveling back in time with this nostalgic ride from the 1900s.
Madame Tussauds
Another hands-on activity for kids at a workshop at Madame Tussauds is a chain wax statues museum. More than 60 famous characters, including Einstein, Ataturk, Madonna, Leonardo Da Vinci, Mozart, and many others, are exhibited in real-sizes. These statues are super real and a perfect opportunity to stop by and get a photo taken with your kids' favorite celebrity. The museum offers five different science and culture themes, VIP, history, and legendary leaders. While the idea is to experience wax art, your kids will also enjoy some of the other activities inside.
There is more to list for this city itself, such as cooking classes, spice market for Turkish Delights, ice skating, art museums, etc. However, we believe that you have an idea about some of the top things to do in Istanbul now, and rest assured, we will be recommending more of the other gems while planning your itinerary.
2. Head to Cappadocia: The Land of Fairy Towers
Once children hear the word "adventure" and learn that the adventure includes hot-air balloons, nothing can beat Cappadocia! Upon landing, seeing the snowy peak of Erciyes (if you are visiting in winter, you might consider enjoying a full day of skiing there as well), after an hour's drive, you will be checking in to your family-friendly cave hotel and rest. The next morning, watching this jaw-dropping landscape from the hot-air balloon (age limit: 6) will be the best start, yet there is a lot more to do today. After breakfast, going down for 4 or 6 floors in an underground city cave, trying to understand the fairy chimney rock formations, enjoy a pottery-making session, do some short hiking at some of the best valleys, or do the same track on a horse and many more. Besides the educational value with its millions of years of history, this is a dream place for kids. While they will enjoy the peaceful, pollution-free atmosphere after Istanbul, their minds will still be pretty busy using their imagination about geography.
Till this far, you will already easily cover a one-week itinerary in Turkey (meaning ideal for a spring break). From here onward, plan to spend anything one to two more weeks.
3. Aquapark Adaland (Kusadasi)
If an aquapark is the centerpiece of your family trip, then this place might be for you. Aquapark Adaland Kusadasi has a ton of activities and water sports to fulfill your day. A big family slide, water coaster, loop slides, kids pool, activity pool, wave pool, lazy river, rafting, and safari park are among the top things to do at this resort. If you would like, Ephesus is pretty close and would sauce up the trip with some educational and historical value.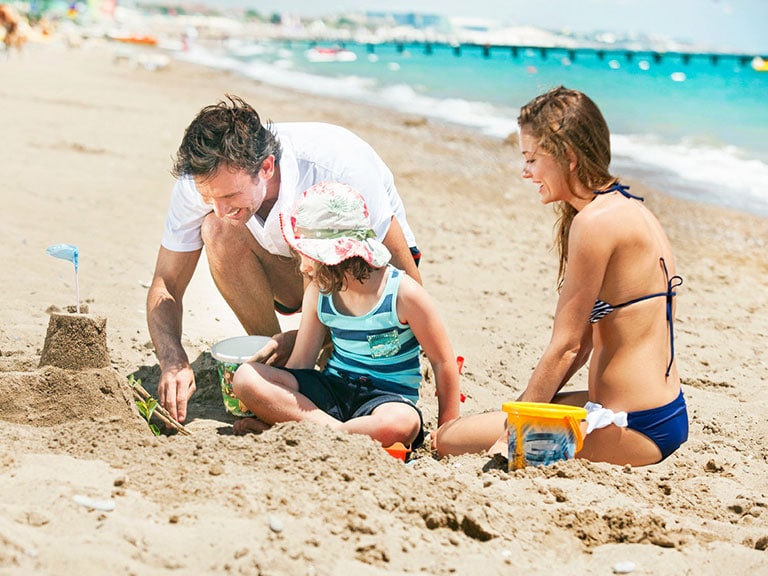 4. Let Them Run Wild at the Beach
Children adore freedom, and after visiting Istanbul and Cappadocia, there is no better way to give them what they well-deserved! Turkey is a haven of crystal clear beaches and depending on the ages of your kids, there is a great variety of family-friendly accommodation from all-inclusive resorts to private villas or connecting family rooms. Starting from Cesme on the west, Marmaris, Fethiye, Bodrum, and Antalya are among the best family beach vacations.
5. Cirali Beach & Olympos: Camp Around
If your group consists of youngsters interested in camping in tents or treehouses, hiring one around the ancient Lycian ruins of Olympos might be one of the options. While the area is rather popular amongst the hippie backpackers, there is a luxury hotel just by the beach and some family bungalows that are pretty reasonably priced. The Chimera is another visit that can be reached with 40 minutes of hiking up the hill to see the eternal flames burning for thousands of years.
6. Oludeniz: Go Hiking Along the Lycian Way
Exploring parts of the Lycian Way is a fantastic way to soak up the beautiful views of the Mediterranean slowly. Listed as one of the world's top 10 great walks, the full trail is about 540 km taking approximately 29 days from Oludeniz in Fethiye to Antalya. It may not be suitable to walk the entire length with the kids, but a short version such as the trails around Oludeniz would be a great alternative to exercise for half-day and early in the morning. The trails are waymarked and generally consisting of hard and stony ground.
In addition to the Lycian Way, there is paragliding and a blue flag beach in Oludeniz that you will be able to include some water sports.
7. Take Your Kids on a Fabulous Seakayaking Ride
Another popular family fun is to do sea kayaking that is best done in a beautiful Mediterranean town called Kas. Less than an hour's drive away, either privately or with a group, you can enjoy a full or half-day tour around the preserved Sunken City of Lycia in Kekova. Enjoying a lunch break, you can take some beautiful photos from the Simena Castle built by the Knights of Malta.
Since this is a single day activity, we would recommend more than a day at this mesmerizing place. It is also one of the best places for scuba diving, hiking, biking, coasteering, standup paddleboarding (SUP), etc.
The famous Kaputas beach is also close by if you would like a beach as most of the hotels in Kas are built on a platform by the water, and if you have smaller kids, you might instead enjoy Kaputas.
Finally, Saklikent Gorge and Xanthos would make another excellent day trip if you have enough days to spend on the above recommendations.
8. Bodrum: An Amazing Family Vacation Spot
Listen, as one of the seven wonders of the ancient world, Halicarnassus is a pure posh for those seeking a better summer vacation. From daily gulet trips to the accommodation with a kids club and all other activities, Bodrum has many family things to do.
It has over 70 blue flag beaches with a great variety of sandy to pebbly coves, and almost all offer a nice selection of cafes, restaurants, and other families that every family may need. If you are in the mood of doing some water sports, Gumbet might be an ideal option for you that has parasailing, banana, and kayaking.
Don't forget to squeeze in the Bodrum Castle and its newly-renovated Underwater Archaeology Museum that offers a beautiful education of underwater life for youngsters.
As there is a direct ferry to Kos from Bodrum, you can do a daily visit to Kos. If Greece is your next destination after Turkey, you can also benefit from the idea of a fast-ferry connection to Rhodes via Kos, then to Mykonos or Santorini, and finally to Athens before home.
9. Antalya: Explore the Wonders of the Mediterranean
Antalya is not only a haven for chain resorts, yet it can be an excellent base if you would like to benefit from the kids club on some days and escape for an adventure when desired. It gets even better if you are vacationing with older kids or teenagers.
Besides some of the most preferred blue flag beaches within the destination, Lara is one of the top choices. There is an aquarium in the city center. For adventure lovers, Koprulu Canyon National Park is the best beat in the country for rafting.
10. Splash Away at the Natural Hot Pools of Pamukkale
The hot springs of Pamukkale is another great spot for a fun mixture of history and relaxation. The ancient health center has a wide terrace of thermal pools on a hill formed out of calcium and carbon dioxide. The water comes out of the ground, and it gets to the pools with channels, and besides the travertine terrace, there is an antique pool of Cleopatra that is open and warm enough to swim all year-round.
The only handicap of the site is that it might get invaded by tour buses during the peak season. Yet, you can still explore the historical site of Hierapolis and splash away at the natural hot pools with relish by planning the day wisely to avoid any crowds.
11. Have a Dream Trip on a Private Yacht
If all-inclusive or kids club is not your style, then let's splurge the luxury! Chartering a private traditional gulet yacht is one of the best ideas for large family vacations. Embarked at one of the ports of Bodrum, Marmaris, Fethiye, or Antalya, you will set the sails off for one of your best family moments. A highly experienced crew will take care of the cooking, arranging water sports and visits relying on your preferences, and why not let the kids catch some fish and enjoy a barbeque night together?
Here is a 14-day family trip that is blended with some other great experiences.
12. Turkish Ice Cream Challenge
After all the sweet treats of lokum (Turkish delight) in Spice Market, this fun experience is another one you will not be able to miss unless you are hiking in the mountains for the entire trip. Spotting the ice-cream cart easily at one of the popular streets or sites, you will see the ice-cream vendor in his traditional dressing, ringing the bell hanging down the cart with his long scoop. Once you are in the line and ready to get the delicious ice-cream made out of milk, mastic, and orchid tubers, you will be enjoying the vendor's tricks till you get the complete piece. This is a traditional and fun part of the process that you should let the kids enjoy the challenge.
13. Hamam (Turkish Bath) Experience
Sweating on the marble "belly" stone, scrub massage, relax and enjoy a glass of fresh tea. Turkish Baths have been one of the best gathering areas in the culture for hundreds of years, especially before we did not have that much technology in our lives. Imagine it more like a spa, yet in a more traditional concept. If you arrive in Istanbul early enough, and if your kids are over four years old, then this is a perfect start for the family trip. Since hot baths are good for blood circulation and vascular function, you will feel ready to kick the road the next day and get over the jetlag much easier.
14. The First Cittaslow Town of Turkey: Akyaka
If your family is interested in eco-friendly holidays or if you have not been to such a slow city before, yet looking for a place to recharge, then this might be the place to hit the nail on the head! Located on the south Aegean coast of Turkey, Akyaka was designated a slow city by Cittaslow International in 2010. Since then, it has been one of the country's most visited towns out of the other 17 towns registered as a slow city.
It is home to some endangered animals and surrounded by numerous unique beauties, just resting by the Azmak River and enjoying a slow village breakfast is priceless! While Akyaka has a beautiful beach with crystal clear shallow waters, Akcapinar Beach is also close by, regarded as one of the hotspots for kite surfing. Sedir Island, aka Cleopatra Beach, is another attraction known for its unique golden sand known and its ancient city of Cedrae.
15. Eskisehir Science Arts and Culture Park: Sazova
While the beautiful blue castle might remind you of Disney World, it is named "Fairytale Castle," designed with eight beautiful main towers representing Turkish monuments. As an alternative to many other day trips from Istanbul, Eskisehir can be reached with a speed train trip of 2.5 hours or a direct flight, which might take longer considering the airports' arrival and departure times.
As the name implies, the castle offers different fairytale themes that kids can join and enjoy the roleplay of their favorite characters. There are other attractions in Sazova Park, such as a pirate ship, an aquarium, a science museum, and many others that will keep your kids amused the whole day.
Important note: if you think it will be a Disney World experience, it will end with disappointment. Thus, if Eskisehir is en route to your road trip adventure, then it might worth and don't forget to take a gondola ride on the Porsuk River.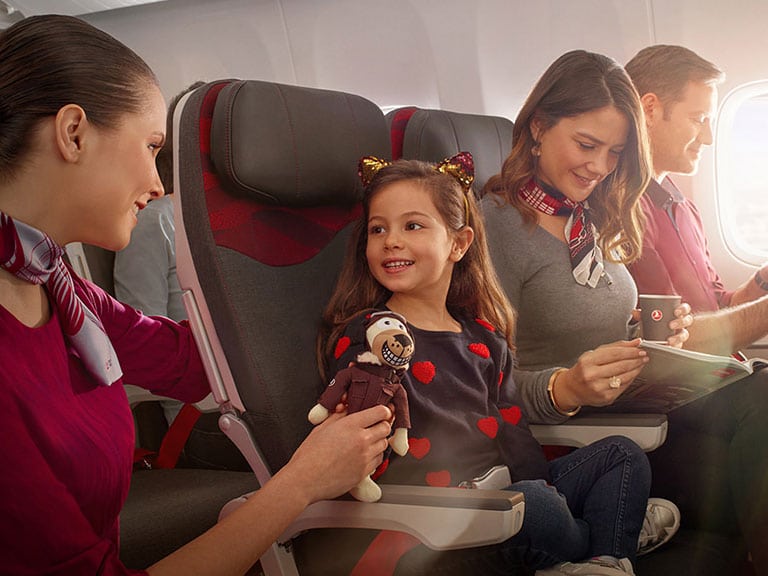 Travel Checklist & FAQ for Families Planning A Trip to Turkey
How much does it cost for a week's trip with the family?
While it is hard to give a concrete answer for this, you can expect to pay anything from 8000 EUR to 15,000 EUR for a nice trip. These are the best possible sample averages for sure, considering the number of travelers will be two adults + 2 or 3 kids, and rates are based on 2020.
Immunization Records & Allergy Notes
It is always better to stay up to do with the regular vaccinations before traveling, not only to Turkey but basically anywhere. Before leaving your home country, please check your country's official travel advisory and get professional medical recommendations as parents will make the final decision.
Some of the routine vaccines recommended by the CDC are the measles-mumps-rubella (MMR) vaccine, diphtheria-tetanus-pertussis vaccine, varicella (chickenpox) vaccine, polio vaccine, and the annual flu shot.
Photocopies of Passports
Just like the e-Visa that you will be getting online, print a copy of your passport only in case they might get lost or stolen. Pickpocketing has been away from the streets for many years now, almost all around the country, but it is better to have a "Plan B" than to be sorry.
Baby Seat Notes
While booking your trip, please make sure both the airlines or flight ticketing agency and your travel advisor have all the baby seat notes for private transportation and domestic air tickets.
Which Part of the Plane?
Turkish Airlines is a family-friendly company, and most flight attendants are well-trained to serve families on long hauls. Depending on the airline company, you can choose or buy seats in advance or during the online check-in, be ready to select your seats, thinking what the best for your baby and your family is.
Since most planes are noisy in the back where the restrooms and the space for staff are located, the best is to go as upfront as possible. This will give you the advantage of getting served first, a quieter moment for the sleep, and, most importantly, get in and exit first if you are especially traveling with carry-ons.
Travel Kit for Kids
If you are going with an age group of 3 to 8 years old, they might want to pack their own backpack to get into the travel mood while you are packing. While lots of toys might already eat the whole space, you can get one of the favorite toys. Some of the alternatives are drawings, workbooks, paintings, digital tablets for emergencies, lollipops, or other types of candy they like, tissues & wet pipes, some snacks, and medication.
Note for medication: if not the exact, there will be a similar brand for what you are looking for. So, you don't really need to pack all, but get the must-have ones for the plane, plus if they are on any special prescriptions.
Games on the Plane
Taking a few new games will make them happy and keep you entertained if you especially have kids 6+ ages. Boogie board, scrabble, bingo, the cube, or similar travel games are generally easy to pack and don't cover a lot of space. If you are enjoying a gulet trip, then some extra card games that are unique to your home country can go in the luggage as well.
Jetlag
If you have older children, their reaction to traveling overseas will be similar to parents. However, if you are traveling with toddlers or younger kids, then you might want to take some precautions, such as adjusting their sleeping time slowly before the travel starts. If it fits in your schedule, it might be useful to plan the arrival day as a "recovery day" to adjust. The same applies to the last day of the trip before returning home. In addition to the Hamam experience recommended above on the list, you can get some melatonin to help you get over the jetlag faster.
Toys
Most toy shops in Turkey offer a great variety, but these places are majorly out of your travel routes as big brands like Toys Shop, Armagan Oyuncak, or similar stores are located at malls. You will be finding some local handmade dolls and wood-made toys, but those are pretty rare compared to the past, like many other handicrafts. Thus, we would recommend you bring some favorite toys with you that will save your life during any crisis.
Food
Turkish people adore children in general, and most of the restaurants within the country are family-friendly. It is not that 100% of them will have high chairs or children's menus, but a significant number of them will still have those. So, you will be able to find a lot of options throughout the entire trip.
Our guides are also used to accompany family tours. They will be selecting the restaurants accordingly and sharing their recommendations for the evening if you would like to dine out at a walking distance restaurant.
Diapers
There are more than ten different qualities that you can easily get, even at corner groceries. If it is to recommend something, Prima might be a better option than others (we were happy with this brand and used it for both of our kids).
Babysitters
At almost any of the destinations mentioned above, we will be able to get you a babysitter if you would like to enjoy fine or romantic dining in Istanbul or elsewhere, or if your kid is under six years old and can't go on the hot-air balloon in Cappadocia. The rates would be starting from 30-40 EUR per hour that may vary depending on the season and destination.
Strollers
Big cities such as Istanbul and Antalya are pretty comfortable with strollers. However, Cappadocia or Ephesus might be challenging due to the cobblestone or rough ground. So, an easy-to-pack baby carrier or an all-terrain stroller might save your life at these locations.
Laundry
Just as many other add-ons for families, laundry is something that will not also cost an arm and a leg. Most hotels have it available, but make sure to check it with your travel advisor before getting to the next destination if the laundry is better and accessible here or there.
Recommendations for Booking Your Hotel and Travel Services
Make sure to note every little detail such as baby car seat, baby crib, kettle for boiling water when needed, etc. By doing so, you will not have to worry about these before arrival as some hotels have limited cribs or extra beds, and especially during the peak season, if there are many families alike, they might have run out of it once you check-in to your hotel.
Plan Your Family Vacation in Turkey with Made in Turkey Tours
Turkey is a haven for a memorable family vacation, and it has more than everything you need that a destination can offer. As experts in travel and traveling as a family since 2016, let us plan you a customized trip that your kids will be thrilled to go along with by implementing all the fantastic activities for kids of all ages and families of all sizes in Turkey and neighboring countries.