Anyone with a tourist connection to Turkey has at least heard of if not visited Cappadocia a couple of times. This magnificent destination is exceptional, having risen to fame for having an unusual yet breathtaking landscape. The area is covered by soft volcanic rock, which over the centuries has been delicately sculpted by the slow hand of nature and retouched by humankind, giving it a unique and alien look.
It all started when nearby active volcanoes erupted and sprayed ash over the whole region. Over time, the ash hardened into the soft volcanic rock, exposed to eons of natural erosion from water and wind. These natural processes shaped Cappadocia's breathtaking landscape, resulting in valleys and unusual rock formations like fairy chimneys and rock citadels.
Humans occupying Cappadocia realized that they could manipulate the landscape and thus, decided to carve churches and homes into these formations and even entire towns above and below ground. Well, if you want to experience this fantastic topography first hand, contact us today and arrange a perfect tour around all these highlights.
On that note, here are 8 of the best Cappadocian specials: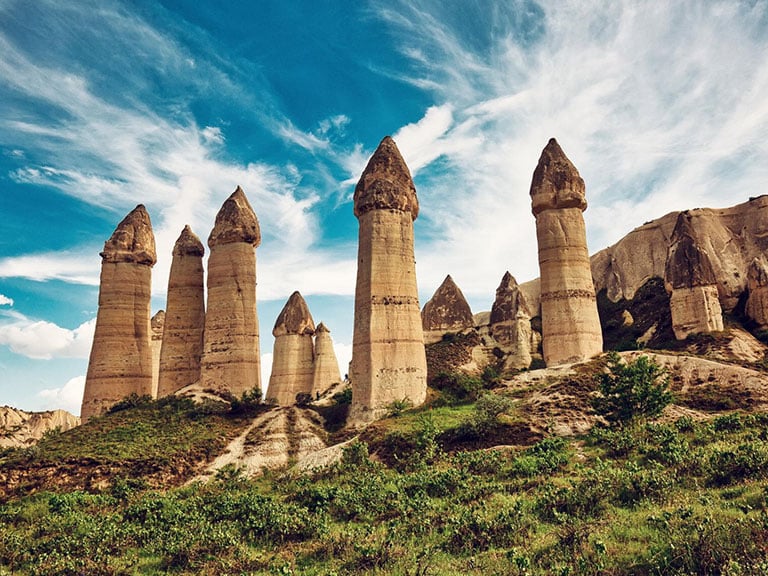 1. Fairy Chimneys
Fairy chimneys are the most iconic feature of Cappadocia. These conical rock pillars were formed after millions of years of erosion by floods and rivers, which eroded the soft layers of volcanic rock (tuff). In some areas, the tuff was covered in a layer of basalt, which is harder and thus erodes slower. The result of the millennia of uneven erosion was thousands of tall pillars with soft bodies protected by hard hats.
These unusual pillars are scattered across Cappadocia and are what we know today as fairy chimneys. There are different types of fairy chimneys, including mushroom-shaped, pointed, and columnar fairy chimneys. In some areas like Pasabag, Rose, and Zelve valley, they cluster together, forming breathtaking forests of rock. Other areas with fairy chimneys include Urgup, Soganli, Pigeon valley, and basically every other valley in Cappadocia.
2. Uchisar Castle
Uchisar Castle can best be described using one word; mind-blowing. Standing 100m (328 ft) tall, this massive mass of rock is the highest point in Cappadocia that is neither a mountain nor a hill. Right below it is the small town of Uchisar, which developed due to the protection offered by the castle.
Some experts suggest that the citadel was once a giant fairy chimney whose top fell off. Thanks to the citadel's soft rock, humans have carved out rooms into the castle, giving it an unusual giant wasp-nest look. Nonetheless, what makes the citadel unique is that at its summit, it offers a panoramic view of the entire Cappadocian region.
Ortahisar is also a similar rock formation, but at 80m (328 ft), it comes short compared to Uchisar Rock Castle.
3. Mesa (tabletop mountain)
A mesa is a tabletop mountain, and Cappadocia is home to a couple of these. They may not be as tall or majestic as your typical mountain, but their flat tops form breathtaking views against the Cappadocian horizon. Except for Aktepe hill, the majority of these were the old sediments of rivers. All of these mountains form an excellent place to go hiking or mountain biking.
4. Devrent (Imagination) Valley
On the northern slopes of Aktepe sits the only valley in the region that humans have never inhabited. It lacks the cave homes and castles that draw many visitors to Cappadocia but has an abundance of incredible pink-hued rock formations resulting from years of erosion. Some of these formations are shaped like pillars, while others take on odd shapes.
Also, there are some animal-shaped rocks and fairy chimneys in the valley. Here visitors can spot the dolphin, seal, alligator, snake, and praying Mary rocks. These interesting formations allow the imagination to wonder as it tries to make out the shape of most of the rocks. This is the reason why the valley is referred to as imagination valley. Devrent Valley is also one of the few places in the region where visitors can fully appreciate Cappadocia's lunar landscape.
5. Underground Cities
Underground cities are another one of Cappadocia's exciting features, although these were carved entirely by man. Experts believe that these mind-blowing cities were carved out around the beginning of the Hittite period. Today, over 36 towns have been discovered, but it is still believed ancient Cappadocians carved hundreds of these structures.
When early inhabitants of the region discovered the tuff layer was easy to carve out, they decided to sculpt massive underground towns into the terrain for security reasons. Some of these towns go on for ten layers into the ground, while others span several kilometers in width. The deepest one is Derinkuyu, while the widest one is Kaymakli.
6. Badlands
The Badlands, known in Turkish as Kirgibayir, is home to spectacular weaving rock formations. Like most other places in Cappadocia, it has been sculpted by millions of years of erosion and looks like a spectacular garden of fairy chimneys. Compared to other similar places in the region, the fairy chimneys here are wider with larger hats.
7. Amazing Valleys of Cappadocia
In total, Cappadocia is home to about 70 breathtaking valleys. Some of these are dried up river valleys, while others were formed due to erosion and others still have rivers running through them. And while fairy chimneys are a common feature in almost all of these valleys, others like Ihlara valley have something different to offer. The valley has a river running along its floor, is one of the most natural places to be, offering a breath of fresh air and undisturbed natural beauty.
Most of Cappadocia's valleys have at one point housed a human population. It is quite common to find rock-cut churches and dwellings on the walls of the region's valleys. They are therefore of major historical significance to the region and also form a haven for hikers.
8. Mushroom-shaped Chimneys
These fairy chimneys can be found in Gulsehir Open Palace, and they are one of the most breathtaking chimneys. They form just like all other fairy chimneys; the only difference is that the top layer of basalt is eroded into a mushroom-shaped cap.