The beautiful country of Turkey always promises picturesque scenes. It then comes with no surprise that Turkey has been a popular destination for traveling and for shooting films.
If you have not explored any beautiful Turkey films, then you should. We have shortlisted the top 10 Turkey films for you to watch!
The Top 10 Films Made in Turkey
While many films have been made in Turkey, these 10 are great films that are not only entertaining to watch but show the beauty and rich culture of Turkey.
Turkey, despite being a popular destination, has not lost its air of mystery. It remains a wealthy country with an incredible history. On your next holiday, you should consider visiting Turkey – and who knows, you may see the shooting of the next blockbuster!
1. Skyfall
One of the best James Bond films in recent times was partially shot in Turkey. The story starts with Bond investigating an attack on MI6 in Turkey's capital city, Istanbul. At the beginning of the movie, however, Bond is relaxing on Calis Beach in the Fethiye area of Istanbul. It is after the attack that he is called to be back on duty.
The James Bond films have always shown audiences the most exotic locations on earth. With Skyfall, Istanbul was put on the map, and tourism to the fantastic city is on the rise.
2. Indiana Jones and the Last Crusade
The last installment of the original Indiana Jones trilogy was partially filmed in Turkey. Set in the late 1930s, this story follows Indiana Jones looking for his father (played by Sean Connery). The senior Dr. Jones has been kidnapped by the Nazis, impeding his search for the Holy Grail.
This classic one remains a typical adventure film and is easily the best movie in the Indiana Jones series. Watch it for its exhilarating storyline and beautiful imagery of Turkey!
3. Once Upon a Time in Anatolia
Of course, we could not talk about Turkey films without mentioning a Turkish movie! This mystery film shows the rich landscape of Anatolia. This region, also known as Asia Minor, is characterized by breathtaking countryside.
As a group of detectives is escorting a prisoner to find a dead body hidden in Anatolia, the audience feels the eeriness of the landscape. There is a sense of melancholy amongst the beauty of Anatolia. We see the relationship between two of the detectives – each riddled with their grief.
It is an excellent introduction to the Turkish cinema.
4. Winter Sleep
This movie takes place in Cappadocia, which, like Anatolia, is a mysterious and enchanting region.
Also directed by Nuri Bilge Ceylan of Once Upon a Time in Anatolia fame, this Palm d'Or winner is a touching drama about a hotelier, once a failed actor. The latter is dealing with the difficult relationship between him and his wife. At the same time, he is trying to console his sister, who is going through a divorce.
This is a mark of human emotion so beautifully captured in Turkey films.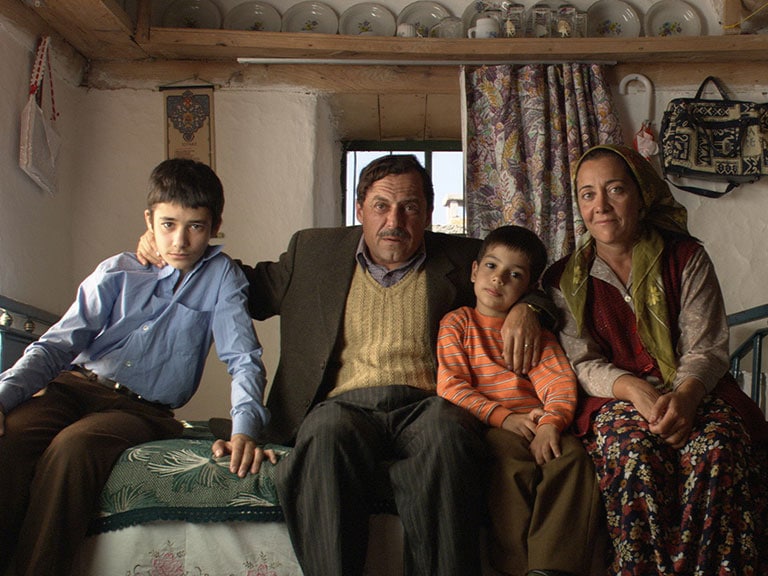 5. Times and Winds
While Turkey is world-renowned for its cities, it has many villages that are also worth exploring.
This cinema, directed by Reha Erdem, takes place in a village deep in the mountains of Turkey. It is a complex tale about the often harsh relationship between young boys and their fathers. It explores the story of a young boy who desires to kill his father, who is the local Imam.
Meanwhile, another young boy in the village wishes to kill his father as well, when he learns of his father's attraction to his teacher.
It shows how in seemingly idyllic villages, there can be a thunderstorm of dark emotions.
6. Crossing the Bridge
This documentary film is directed by the prominent Turkish director Fatih Akin. In this documentary, he explores Istanbul's current music scene.
In discovering the current music scene, there are also explorations of classical Turkish music and how it influences the current scene. From the roots of Turkish music to Turkish rappers, this documentary will educate you on the richness of Turkish music.
7. A Touch of Spice
This drama film is a great immigrant story. It follows a Greek man returning to Istanbul from Athens. He recalls his childhood in the Turkish city. It was here where his grandfather taught him about cooking and about life.
This movie shows the nostalgia that exists when a city changes. The protagonist longs from Istanbul, or Constantinople, that he grew up in. This sharply contrasts with the modern Istanbul that he experiences as an adult.
This film won several awards in Greece, including Best Film at the Greek State Film Awards.
8. The Water Diviner
This 2014 movie stars Russell Crowe as an Australian farmer who travels to Turkey shortly after World War I. His three sons did not return from the war, and he relentlessly searches for them.
It is a fantastic drama that we recommend viewing.
9. The Two Faces of January
This thriller is based on Patricia Highsmith's (of The Talented Mr. Ripley's fame) novel. It follows a married couple whose life turns topsy-turvy after a detective is killed.
This causes the couple to flee with a scam artist Rydal, who killed the detective. Matters take a turn for the worse as they try to evade the law.
10. Taken 2
The second installment of the famed Taken series takes Bryan Mill (played by Liam Neeson) to Istanbul – where the vast majority of this film was shot.
Bryan is on the job in Turkey and has his ex-wife and his daughter accompanying them. While everything seems like an enjoyable holiday, things go awry when Bryan's family gets targeted by a crime lord. Bryan Mill had killed this crime lord's son in years prior, and the crime lord is now seeking his revenge on Bryan Mill – by targeting his family.
The thriller shows the enchantment of Istanbul. Liam Neeson stated he was moved by the call to prayer that he heard while making this movie in Istanbul.
Watch Them All
We recommend watching all ten of these films and many more. Movies are often made in exotic locations, but there is a charm that Turkey films have. We are sure you will enjoy these films and become enchanted with Turkey in the process.
Be sure to follow us for more information on traveling to Turkey.