Turkey is full of incredible attractions, from stunning landscapes to magnificent buildings and cities. It also has one of the richest histories in the world, one that has left behind ruins that attract millions of tourists every year. But between these, one aspect of the country always manages to slip under the radar; its wondrous coasts.
Bordered by four seas, Turkey is home to some stunning beaches, some best of which sits in the Bodrum peninsula. Here, visitors enjoy sessions under the sun on the white sandy beaches and warm subtropical turquoise waters of the Aegean. And even better, no two beaches are completely alike. Instead, every location offers something unique, so you can hop from one coast to another without the whole experience feeling repetitive.
That said, here are 12 of the best beaches on the Bodrum peninsula in no particular order:
1. Gumbet
Gumbet beach is the place to be if you like injecting some wild experiences into your vacation. Like most beaches, Gumbet is well exposed to the sun and offers a lovely sea view. There are also a lot of places to lazy around thanks to its wide selection of comfy loungers. Yours is to relax on one of these, enjoying the warm Aegean sun while an attendant prepares you a delicious cocktail to go with the occasion.
But that's not all; Gumbet is more famous for its exhilarating day and night cycle. During the day, revelers can enjoy watersports like jet-skiing, snorkeling, boat rides, and parasailing. Nighttime is better spent in one of the beach's wild nightclubs dancing away to catchy tunes.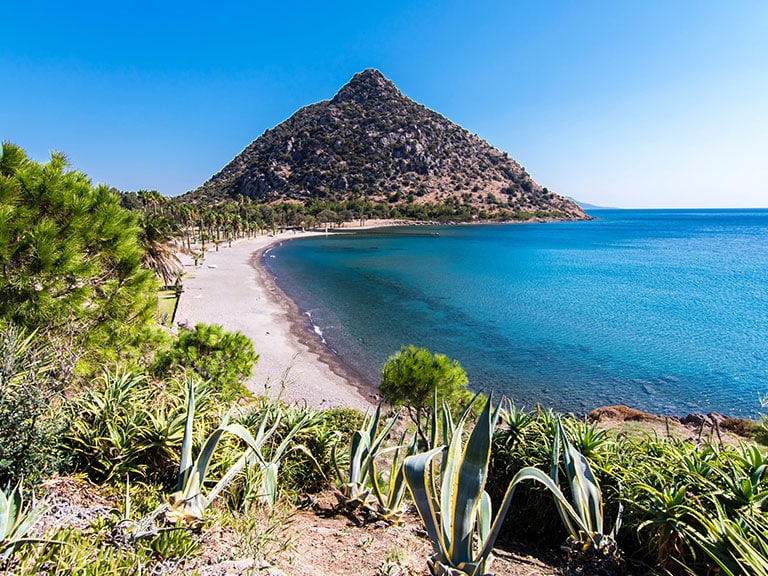 2. Aspat
Aspat beach is a hidden gem on the peninsula that receives fewer visitors than other beaches in the area. This makes it ideal for lonely travelers looking for a quiet place to relax. The beach is located among the mountains, a setting that gives it a welcome injection of scenery and nature. It also features fine-pebble sand and crystal blue waters, perfect for swimming and snorkeling.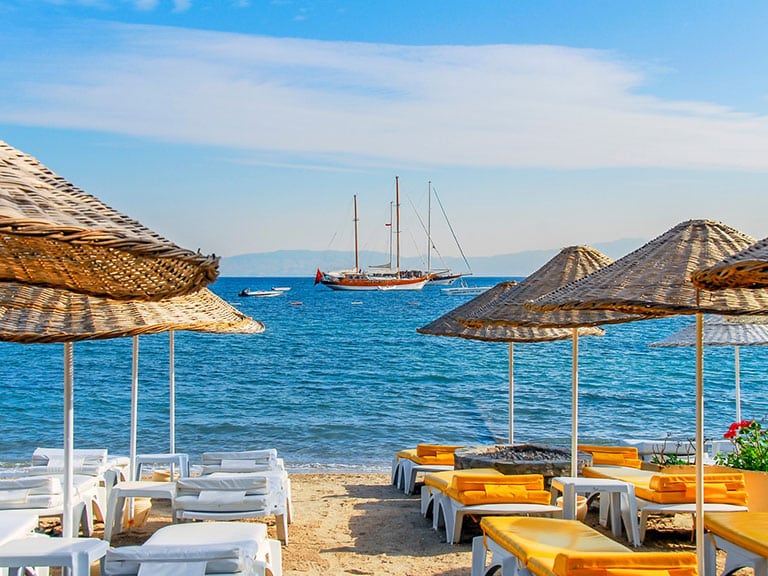 3. Bitez
Bitez Beach offers the perfect atmosphere for those looking for a relatively peaceful Aegean experience. This is because it's one of the few beaches in the area with fewer restaurants and nightclubs. So, visitors looking for a quiet, less-crowded beach with stunning views of the Aegean have made Bitez their sweet retreat.
If you have had enough of the sand and water, the lounge chairs provide an excellent place to relax and watch the day go by. Some of these chairs go right into the sea, so you can always jump right into the water and back out when it suits you.
Bitez beach is a short ten-minute drive from Bodrum.
4. Yahsi Beach
A few years ago, Yahsi was known as Yahsi Yalisi. But when Yahsi merged with Ortakent into one municipality, the area became known as Ortakent-Yahsi. It is unique because Ortakent Yahsi is now the longest beach (2km long) in the Bodrum peninsula. Its western end sits in Yahsi, while the eastern end is in Ortakent.
Overall, the coast is an interesting place with many different activities to engage in. The western end is lined with restaurants, shops, and opportunities for boat rides, making it more popular among tourists than the eastern end. The middle section of the beach is close to the harbor and hosts many craft shops.
All along Yahsi beach, you can take a stroll, go shopping, enjoy a boat ride, or just relax under the warm embrace of the sun. It also offers excellent sunset views and the Greek island of Kos.
5. Turkbuku
Turkbuku is a beautiful beach on the Bodrum peninsula that caters to a high-end crowd. It features fine-dining restaurants serving delicious foods and more refined wines from some of the finest vineyards in the country. So, if you want a taste of the high life, Turkbuku beachfront is the place to be.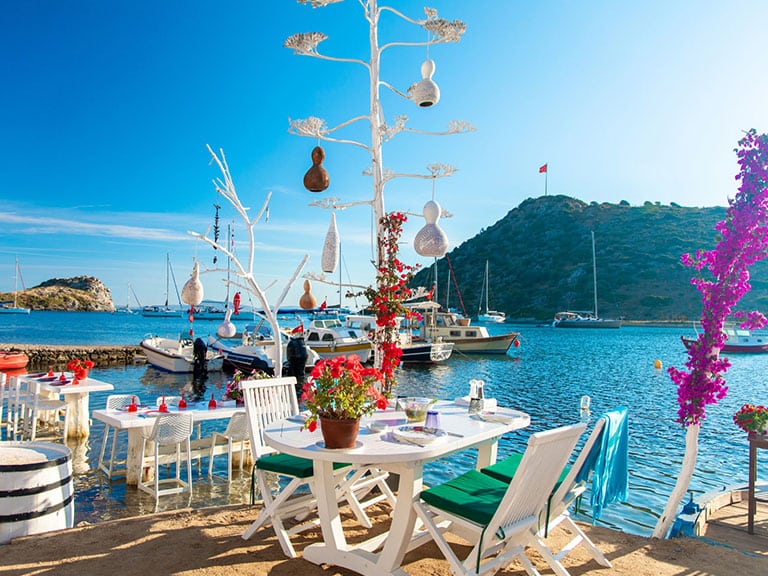 6. Gumusluk
Any snorkeling fan would love an afternoon at Gumusluk. This is because nestled within the clear blue waters are the ruins of Myndos, an ancient Dorian colony of Troezen. The area was once a thriving center of trade, and although it has been abandoned for centuries, it provides an excellent location for exploration and fun.
The crumbled underwater ruins add to the air of awe and wonder, so if you're here, you don't want to leave without diving into the waters. Snorkeling gear is available for rent nearby at an affordable price.
The neighboring Rabbit Island also offers exploration opportunities for all who are interested. The island is connected to the beach with sandbanks stretching out far into the sea, so you can take a peaceful walk there and back once your adventure is done.
7. Ortakent
Located on the eastern end of the Yahsi-Ortakent stretch, Ortakent is the quieter, less crowded alternative of the two beaches. Visitors lay on the pebbly shore, slowly taking in the sun. You can also head out for a swim or stretch your legs on a peaceful stroll as you await the sunset.
8. Camel Beach
Also known as Kargi Bay, the area redefines seaside indulgence thanks to its incredible restaurants, sunbathing lounges, and swimming-friendly and watersports conditions. But what brings visitors here is the promise of a camel ride along the beautiful Aegean shore. This has made Camel Beach one of the most family-friendly locations on the peninsula.
9. Yalikavak
Even from afar, Yalikavak beach screams luxury. This is because many boats and yachts coming out of the harbor slowly pass through here, resulting in an impressive display of wealth and luxury. So, if you are super into yachts, whether you own one or not, this is the beach to be. There are also several high-end resorts and restaurants in the area with top-quality sun loungers.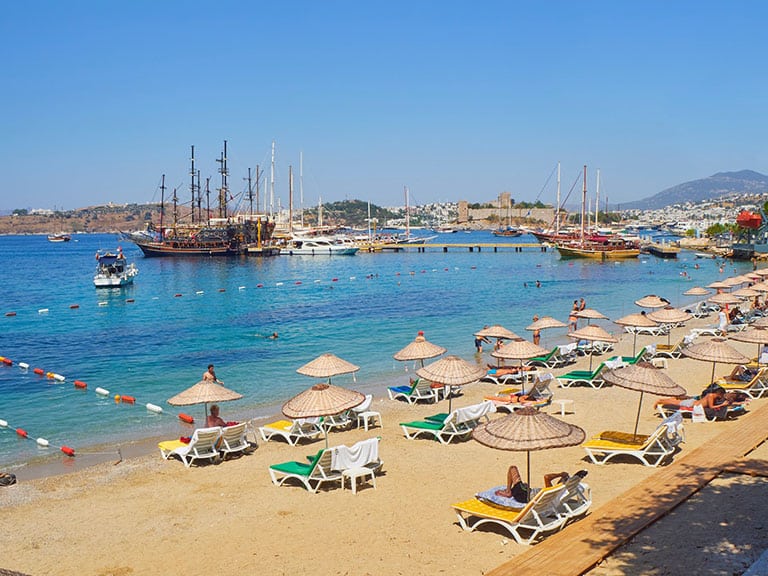 10. Kumbahce
If you are in town and looking for a nice place to relax, the Kumbahce bridge may be the perfect place. It is an excellent location with a 300-meter stretch of sand, incredible peninsula views, and Bordrum's iconic castle.
11. Turgutreis
Turgutreis is all about relaxation and views. One of the top attractions of the peninsula's second-largest town, the area is famous for its numerous cafes and restaurants serving Turkish seafood recipes and drinks. Here, you can enjoy your meal on the diners' tables or carry it to a beach lounger or parasol and dine your way to satisfaction while enjoying incredible views of the sea and the Greek Island of Kos.
Saturdays offer beachgoers a little something to remember their trip with. This is the market day, where local artisans bring lots of interesting crafts to buy and take back home with you.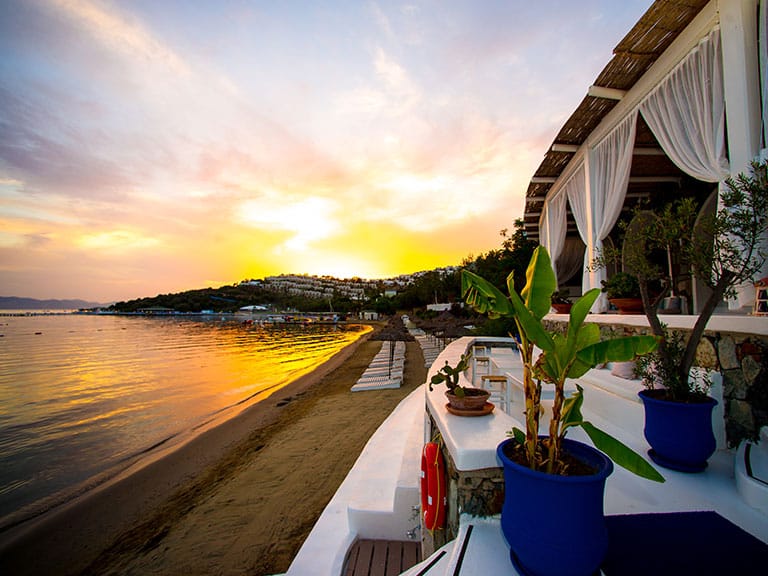 12. Kadikalesi
Kadikalesi is a beautiful coast backed by a quaint rural village with several restaurants and cafes serving delicious home-cooked Turkish recipes. Its white sands are often unpopulated, making it a sweet spot for those searching for a quiet location to bask or chill out with a book in hand.
But don't let its calm nature fool you; the beach offers lots of opportunities to inject an adrenaline boost into your day. This comes in as kite surfing since Kadikalesi has some of the best weather conditions for kite surfers. The mornings feature mild winds, which attract beginners interested in kite surfing lessons.
However, the afternoons are better left to the pros. The stronger winds allow them to put on a show for the other beachgoers who prefer to spend that time relaxing and enjoying the beautiful Aegean scenery.
Let us take you there
Bodrum's beaches, nightlife, activities, water sports, luxury accommodation, unique attractions, and many other day excursions make it one of the best places to visit. So, if you're planning to visit Turkey soon, let us take you there.